The initiative includes several steps: planting a sunflower, reading the Declaration of Human Responsibilities written by Dr. Bohdan Hawrylyshyn, and sharing posts on social media about how each person is acting responsibly today to support Ukraine and its future.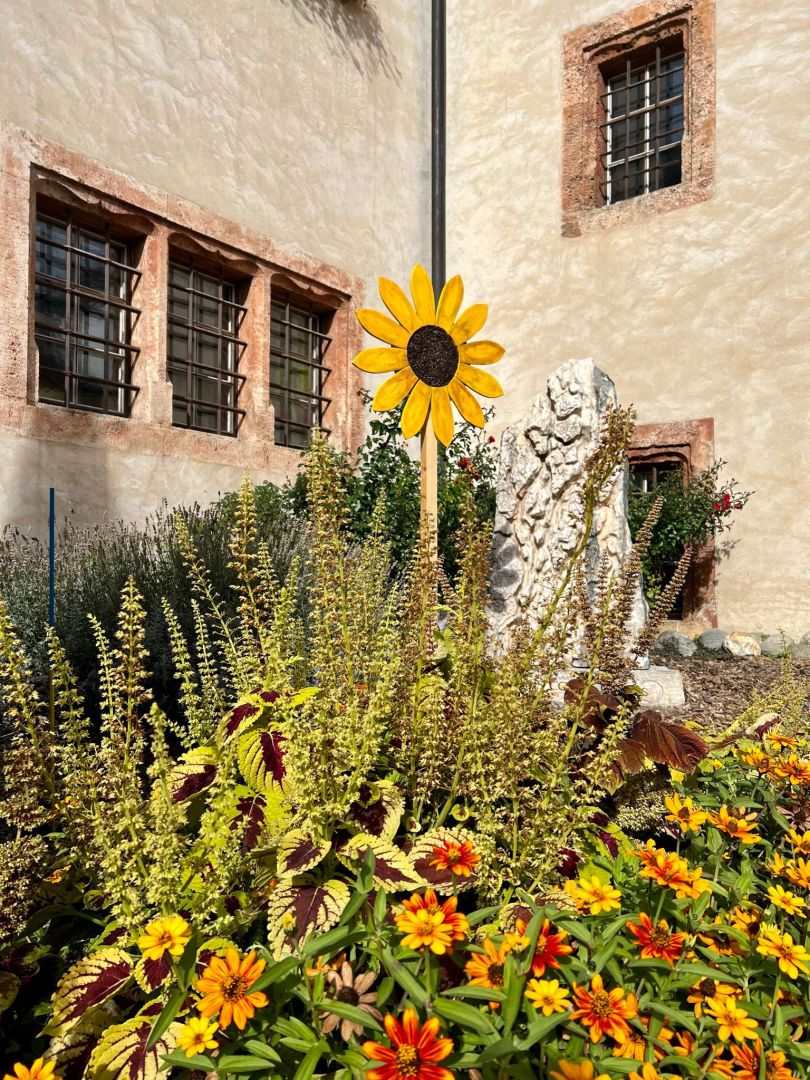 Garden in front of the Naters City Hall
Last year, in the picturesque town of Naters (canton of Valais), yellow sunflowers were burning everywhere in the summer, from the square in front of the town hall, near the church, along local roads, on a large number of fences and construction fences, planted at the initiative of Edelbert Bregy, a local artist, and the municipality, sunflower heads woven from yellow yarn by elderly Swiss people from nursing homes and kindergartens. Join your friends and family or your organisation for the VII Responsibility Marathon!
How to join the Responsibility Marathon
Get sunflower seeds of any variety.
During May – early June, plant sunflower seeds in open ground. Take care of your plant keeping the soil moist. Later, you will see how new life flourishes. This is how Ukraine will prosper with our responsible actions and support from the whole world!
The sunflower grows for around 100 days, during which so many things can be done. For example, you can make donations to support Ukrainian defenders and volunteers, provide clear and truthful information about the war in Ukraine on your social media, share interesting facts about Ukrainian culture and world-famous Ukrainians.
While the sunflowers are growing, read the Declaration of Human Responsibilities by Dr. Bohdan Hawrylyshyn and describe on social media why it is important to you to support Ukraine. Use hashtags #bh15, #ResponsibilityMarathon, #SunflowerChallenge. In this way, we can support and inspire each other with our stories.
The motto of this year's Responsibility Marathon is "Blossoming sunflowers – blossoming Ukraine". Our actions are like seeds for Ukraine's Victory. This is why we should continue to be sunflowers for Ukraine, all around the world. We should plant our seeds of support, solidarity, responsibility, and faith for Ukraine.
Declaration of Human Responsibilities