Varenyky with cherries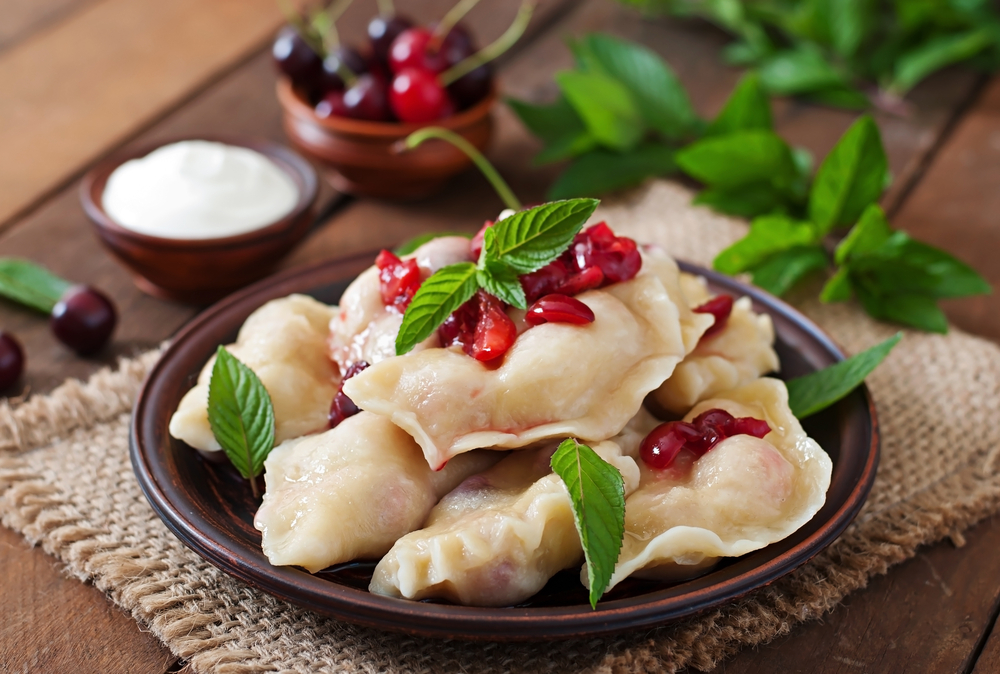 To start with the simplest, yet most beloved dessert, varenyky, or dumplings, are mentioned as far as Ukrainian folklore. This food even had ritualistic meaning — in the ancient times, pagan Ukrainians brought it as a gift to the goddess of Moon, due to their resembling shape. Moreover, women always prepared varenyky as a symbol of creation and birth. Nowadays tasty varenyky with cherries pop in menus of many Ukrainian cafes and restaurants, and still are prepared by hostesses at home, especially for holidays.
Syrnyky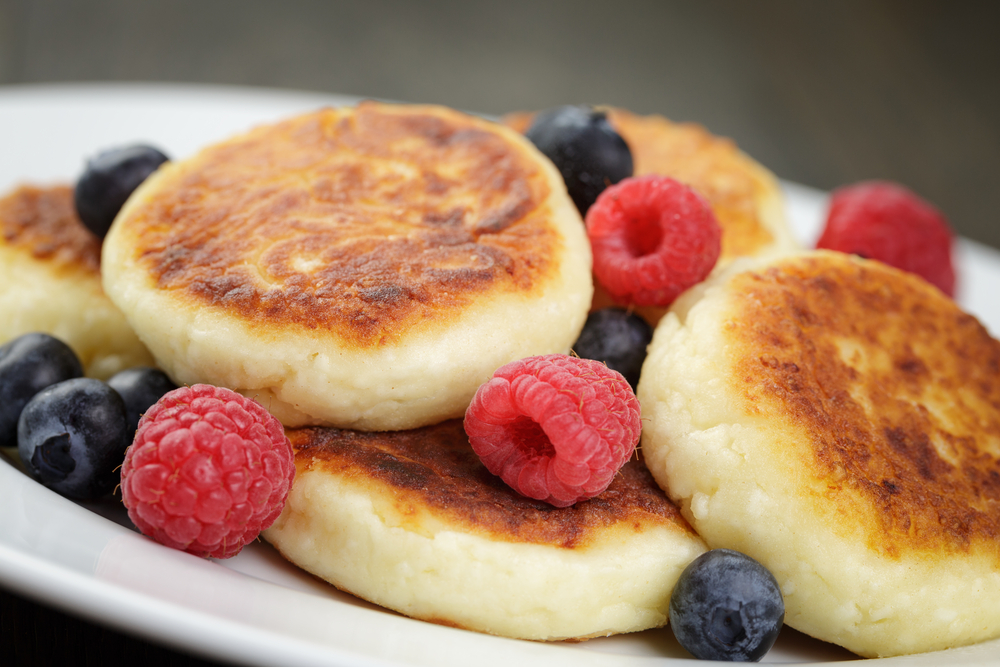 Often called a Ukrainian analogue of cheesecake, syrnyky are roasted pancakes, made of home cheese, flour, eggs as well as salt and sugar. Known since the 18th century and popular in all regions of Ukraine, syrnyky can be both sour and sweet, depending on the serving. The sweet ones can be topped with sugar powder, honey, and various jams. Syrnyky are often served even in urban multi-cuisine cafes for breakfast, or as a dessert.
Nalysnyky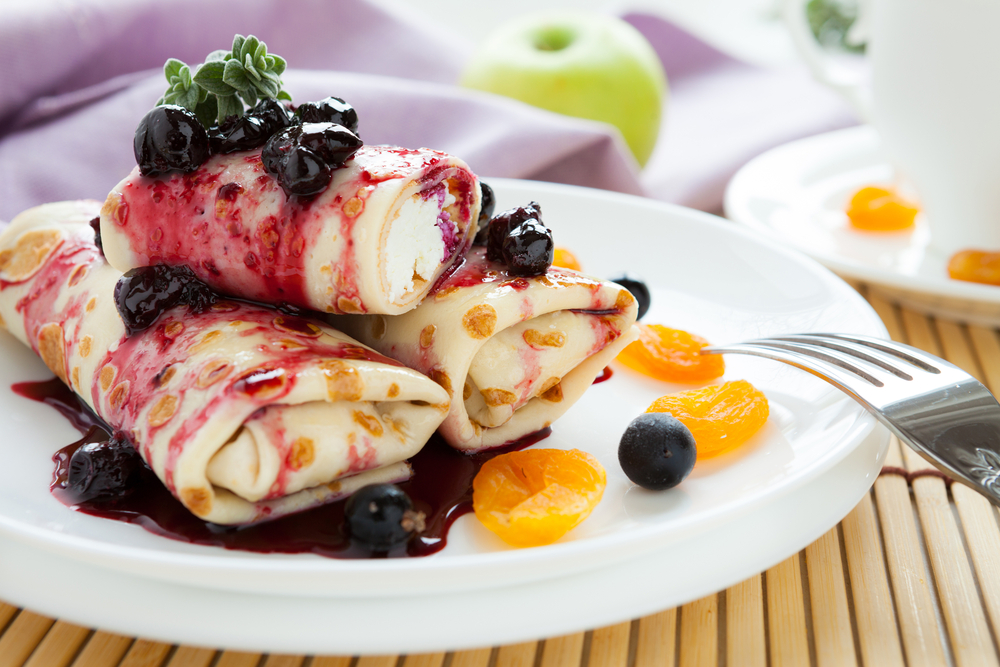 One of the best examples of Ukrainian traditional food, nalysnyky are sometimes unfairly overlooked by many reviewers of local cuisine. It is true that even in the modern times, if you open a fridge of an average Ukrainian, you might see these little rolls. The dish is essentially rolled thin crêpes with cottage cheese, sometimes topped with jam or varennya in Ukrainian for extra sweetness. The other popular fillings include cabbage, mushrooms, caviar, and berries, but sweet cottage cheese stays the classical one throughout centuries.
Verhuny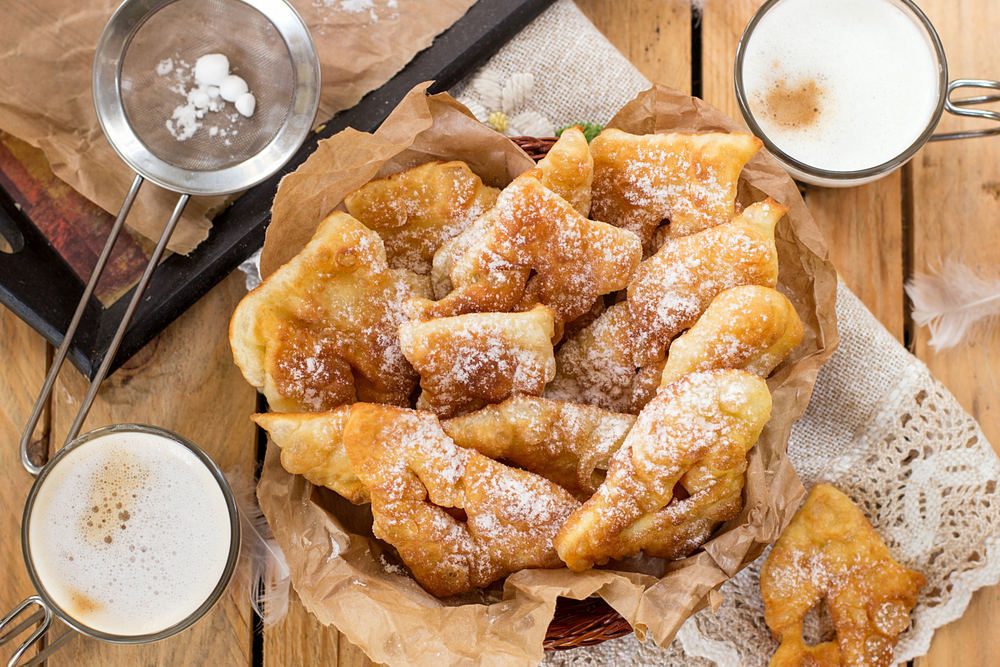 Alternatively called 'Angel Wings', this cute little crisp pastry is a popular Ukrainian dessert dish. The preparation is quite simple: dough is twisted into ribbons, then deep-fried, and sprinkled with powdered sugar for extra sweetness. Some hostesses add horilka, rum, or other spirits to make verhuny spicier. Traditional Ukrainian verhuny are only fried in lard. The peculiarity of the dish that makes it suitable and beloved for many is non-yeast dough: perfect for Lent, dieting, or simply a fresh sweet snack.
Babka cake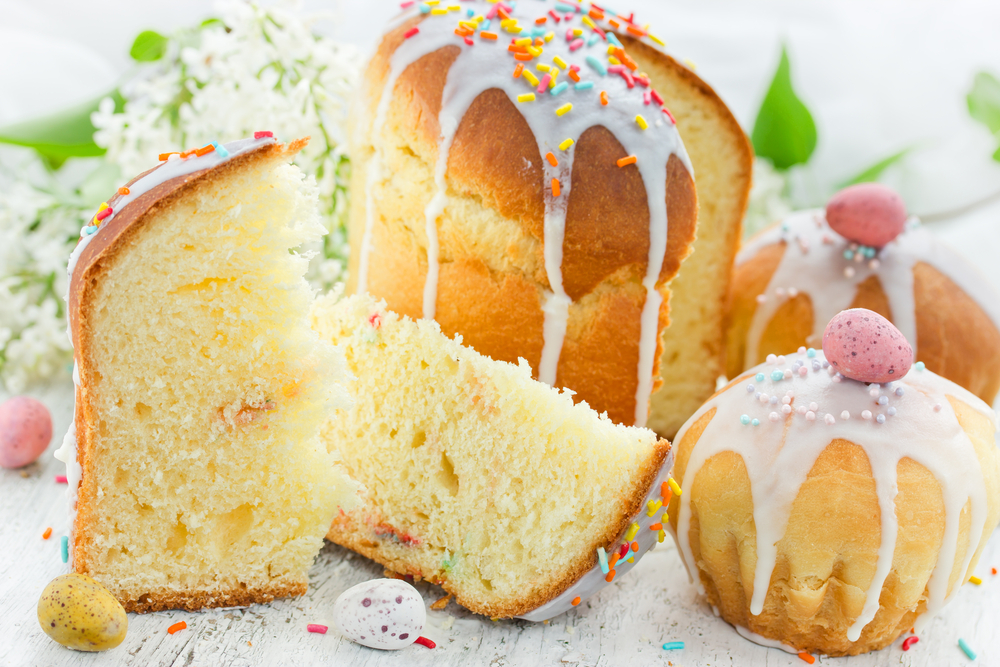 Known to those who watch Canadian TV-series Orphan Black, babka is a traditional Ukrainian sweet yeast cake. This rich in texture sponge treat is often baked specifically for Easter in large quantities – several big ones for the family gathering, and smaller ones to give to relatives, friends and colleagues. Babka often has raisins inside, and is topped with sugar glazing on top. Besides, Ukrainian cuisine has another 'babka' (which, by the way, means 'grandma' or 'old woman') – rum babka. Often sold in shops and kiosks, this is essentially a mini-version of sweet and rich bun, only soaked with rum.
Sochnyky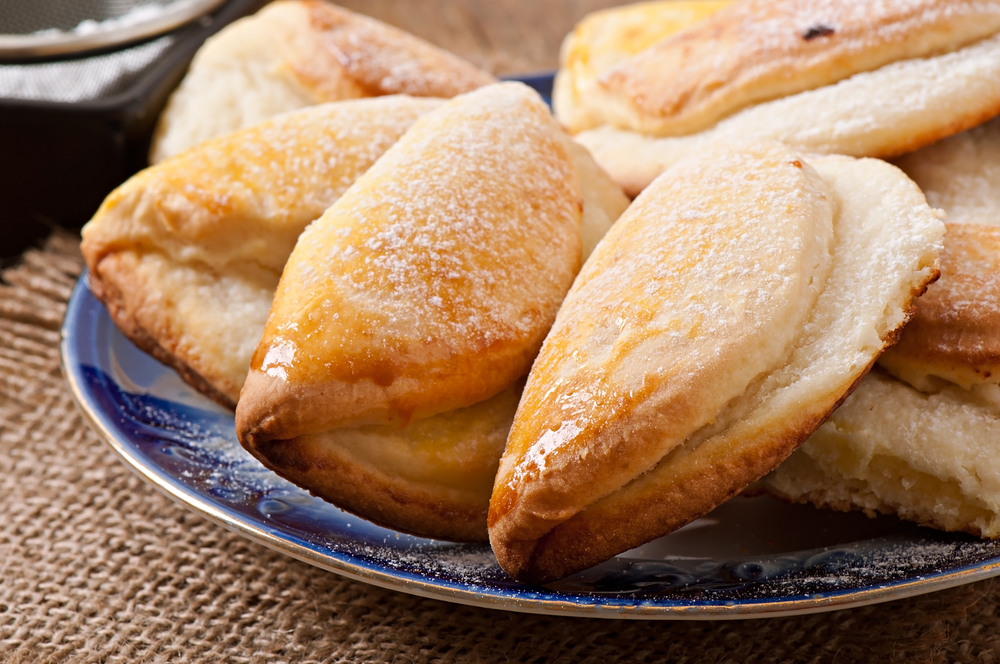 It is probably pretty obvious that cottage cheese is often used in Ukrainian cuisine for all means and purposes. Sochnyky are no exception — these small cones, made of soft sweet dough and cottage cheese filling are one of the most popular options 'to-go' in the big city bakeries along with poppy buns. Sochnyky became especially popular during the times of the Soviet Union and still stay strong nowadays.
Kyiv Cake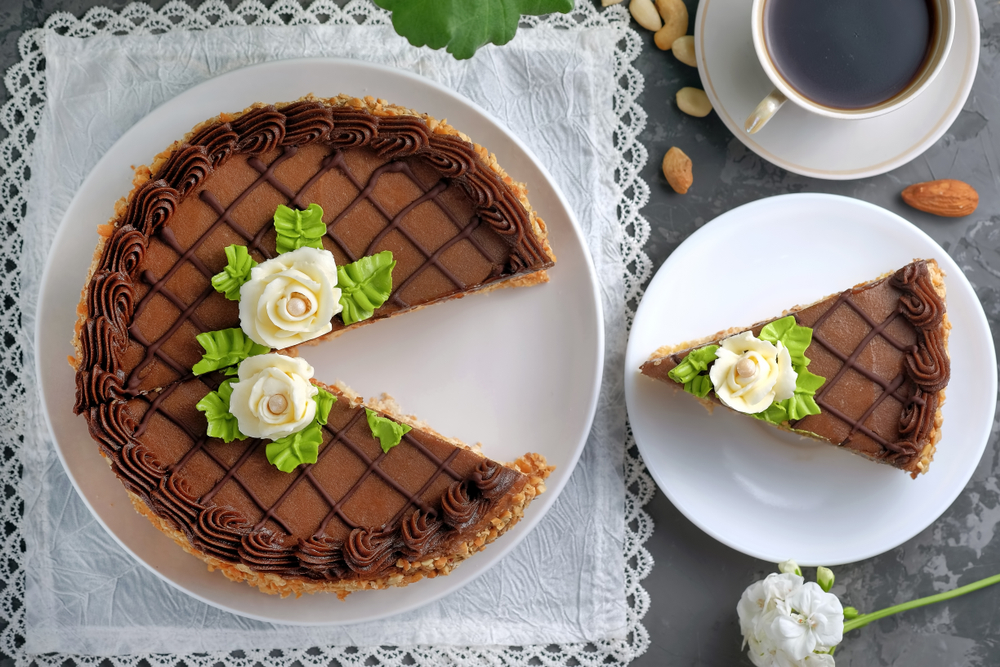 Another dessert straight from the USSR, this cake nevertheless is one of the 'brands' of Ukrainian capital. The popularity of Kyiv Cake has passed the borders of Ukraine, and youngsters in Kyiv even buy enamel pins with its picture to proudly boast among peers. This airy pastry is multilayered and quite difficult in preparation, but luckily is always available in stores and pastry shops like Roshen. Kyiv Cake consists of meringue and hazelnuts layer, fruit jam layer, and filling that resembles buttercream. Modern variant with different-colored buttercream flowers décor on top is what makes it visually recognizable among many others.
Shulyky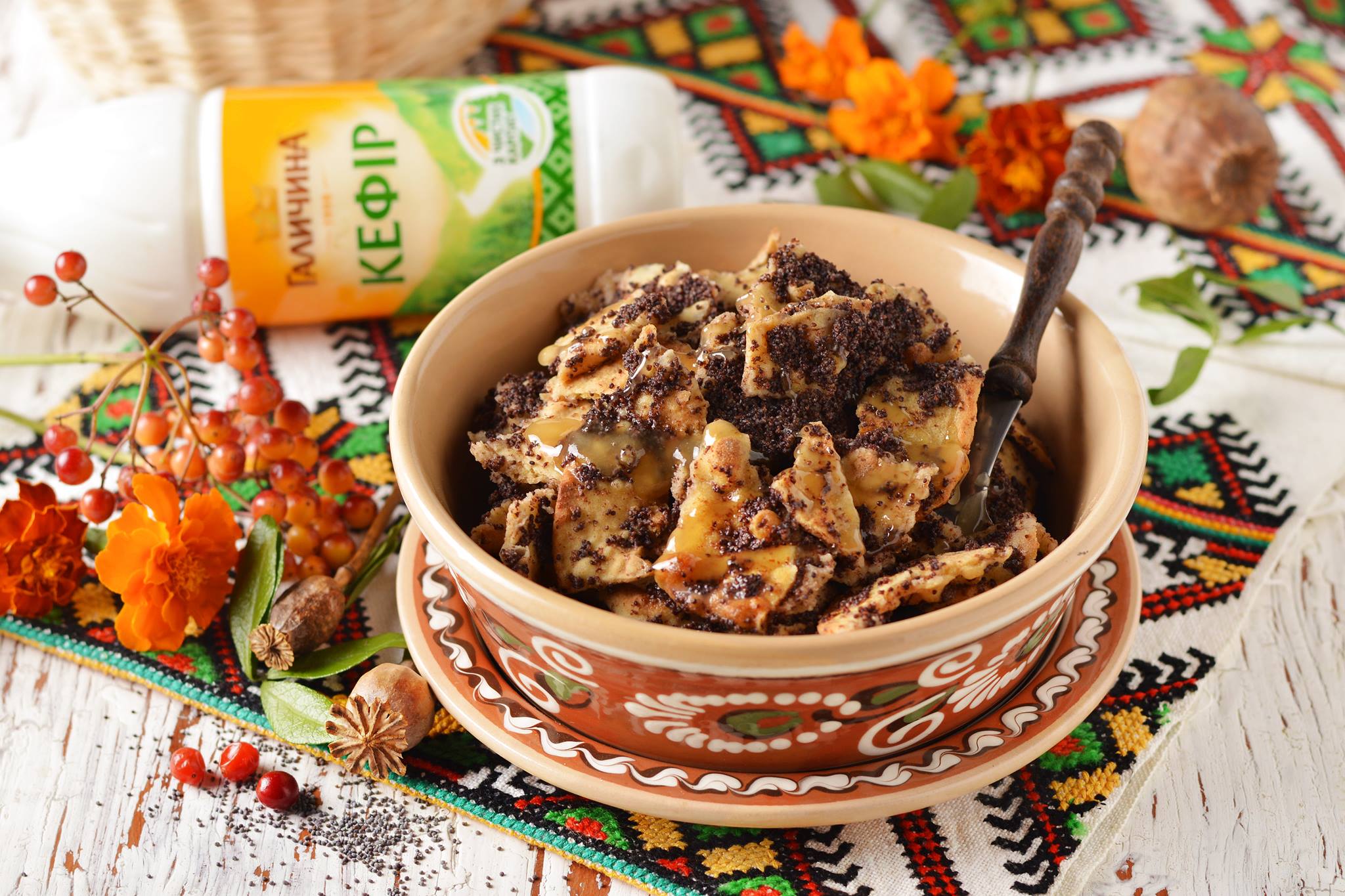 Also called lomantsi, this dish is traditionally served during Honey Spas, an Orthodox Christian holiday celebrated on July 14. Shulyky are small wheat cakes, called korzhi, cut into small pieces and diluted with mixture of honey and grated poppies. The dish is known since the ancient times, and described in one of the most important literature works of Ukrainian literature Eneïda by Ivan Kotliarevsky.
Honey Cake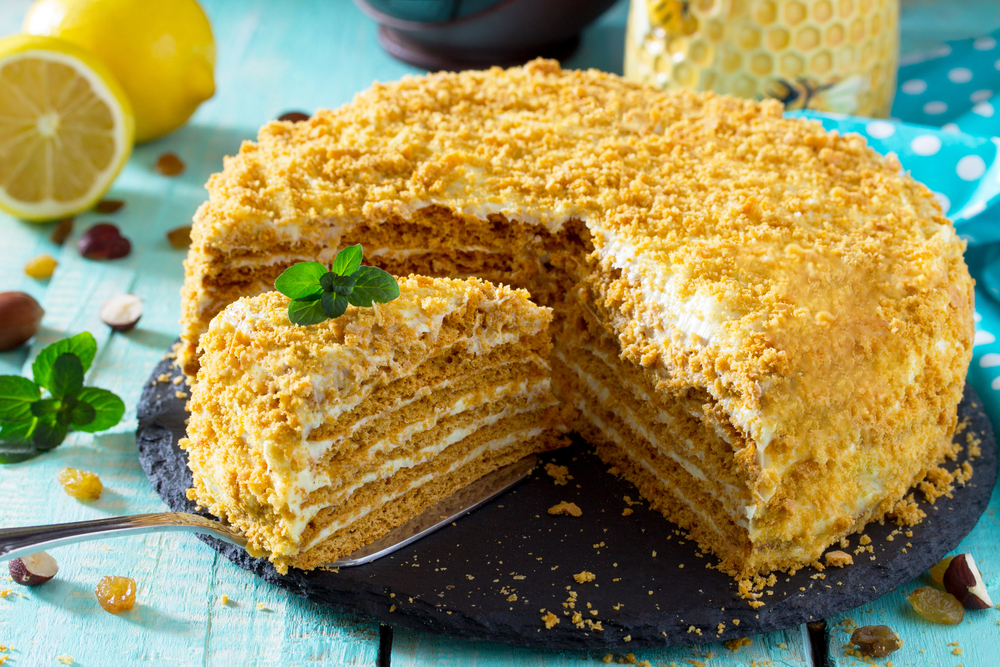 Known to Ukrainians as Medivnyk, or Medovyk, is an authentic Ukrainian dessert cake that is beloved even nowadays. Many hostesses prepare medivnyk for birthdays or non-religious holidays that don't call for grandeur. This multilayered cake, soaked with honey during 4-5 hours, comes out extremely delicate, so much that it actually melts in the mouth.
Uzvar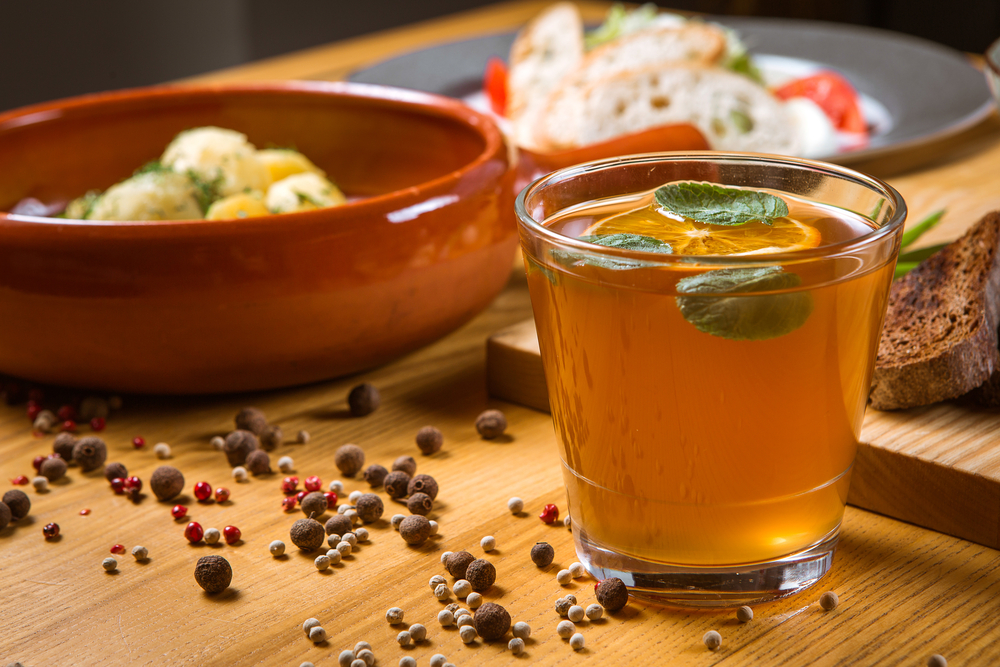 While uzvar is a beverage, it nevertheless is one of the most popular Ukrainian sweet beverages that accompany both main dishes and desserts. Perfect for scorching summer, this drink tastes light and doesn't leave a trace of thirst afterwards. Uzvar is traditionally made of dried fruits and berries, most popular being apples, pears, cherries. Sometimes raisins and spice like cinnamon are added to enhance the taste. Diluting boiled fruits and berries with honey is what makes uzvar so special and sweet. It is traditionally served cold, though hot option is allowed as well.
Ukrainian cuisine is full of memorable dishes, and desserts are merely a small part of what there is to discover.
Photo source: shutterstock.com, galychyna.com.ua. All images belong to their rightful authors.