The INSO-Lviv (International Symphony Orchestra Lviv) Academic Symphony Orchestra of the Lviv National Philharmonic finished their tour of Germany and Switzerland. Ukrainian musicians presented their program to public in Basel and Freiburg, where the final concert took place on February 18th alongside German clarinettist Sebastian Manz, directed by Oleksandr Gordon.
This evening of music helped Swiss audience to touch and better understand Ukrainian culture. The program included works by Ukrainian composers Borys Lyatoshinsky and Vasyl Barvinsky, as well as German composers Johannes Brahms and Carl Maria von Weber.
"We're glad to have the opportunity to get to know the world with our wonderful composers Lyatoshynskyi and Barvinsky. For us this is a great honor and an incredibly important mission. The world needs to know about wonderful music by Ukrainian composers," INSO-Lviv said.
Thanks to the Friborg Concert Society, Ukrainians who found themselves in Switzerland in search of a safe haven due to the war had the opportunity to hear INSO-Lviv's program. Many Swiss families hosting Ukrainian refugees attended the concert. This event became a way of thanking the Swiss for sheltering Ukrainians.
Clarinetist Sebastian Manz noted a special visual contact with audience. It is very important for a musician to see an audience that understands and feels music. The grateful audience called INSO-Lviv director Oleksandr Gordon to the stage several times with continuous applause and shouts of "bravo".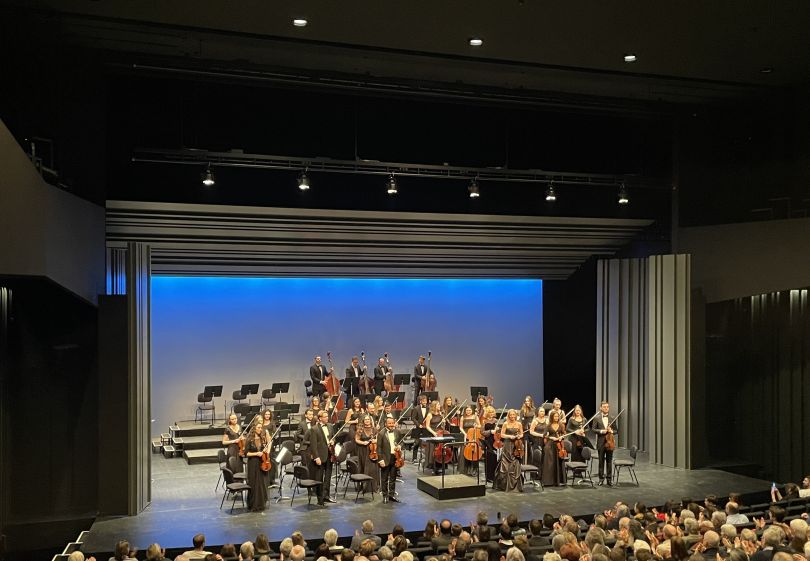 INSO-Lviv was founded in 1998. The real "golden fund" of the orchestra is cooperation with world-famous musicians and directors. Francois Leliot, Lisa Batiashvili, Wolfgang Emanuel Schmidt, Oleksandr Zemtsov, Serhiy Nakaryakov, Otto Sauter, Valery Sokolov, Vadym Neselovskyi, Simon Trpcheskyi, Claude Delangle, Andriy Belov, Alessandro Safina, Maria Prinz performed as soloists in the concert programs of "INSO-Lviv". Philippe Pierlo, Ilya Grubert, Alan Burn, Lorin Sklamberg, Leopold Kozlowski and many others. Among the guest directors with whom the orchestra has successful cooperation are Georg Kugi, Sir Dirk Brosse, Krzysztof Penderecki, Raymond Janssen, Simon Kamartin, Oksana Lyniv, Fakhraddin Kerimov, Steven Dickren, Anna Skrylova, Nicolas Pasquier, Dalia Stasevska, Christian Schumann and others.
INSO-Lviv is the bearer of the idea of peace, and in its projects the orchestra implements a key mission - cultural diplomacy - thanks to the unifying power of music.