The next participant in a series of materials about associations that help Ukrainians is the Geneva Branch of the Ukrainian Society in Switzerland (USS).
The Ukrainian Society in Switzerland was officially founded in 1945 by Ukrainians, as well as refugees and students, many of whom were unable to leave Switzerland after World War II. Its purpose was to provide a meeting place for Ukrainians living throughout Switzerland, organize public events, support and preserve Ukrainian culture in the diaspora, inform about Ukrainian issues, and serve as the official representative of its members in the public sphere.
The Geneva Branch of the Ukrainian Society in Switzerland was created in September 2016 as a need arose to have a public organization that unites Ukrainians in the canton of Geneva. The primary areas of focus for the association have been cultural and educational endeavors. However, the events of February 24, 2022, have drastically changed the work of the Geneva branch.
Since the beginning of the full-scale Russian invasion of Ukraine, the Geneva Branch of the USS has concentrated its efforts on providing humanitarian aid to those affected by the war, including Ukrainians on their homeland and those who are fleeing the conflict. The team has launched fundraising and humanitarian aid efforts, transporting aid to Ukraine, providing comprehensive support to refugees, organizing volunteers on the ground, and implementing numerous essential social projects.
Throughout this year, the Geneva Branch has become a significant political voice for the Ukrainian diaspora in Switzerland. Solidarity, compassion, and high motivation describe the Ukrainians who have established powerful volunteer structures to assist their compatriots. In doing so, they present Ukraine to the world as a European country of talented, intelligent, brave, successful, and sincere people.
The Creation Story:
Oksana Kobzar, originally from Sumy, serves as the Vice President and Public Relations representative of the Geneva Branch of the Ukrainian Society in Switzerland. She was involved in the establishment of the branch from the beginning, as she has been living in Switzerland since 2008. In an interview with DestiNations, the founders of the organization, Oksana Kobzar and Inna Akhtyrska, shared how the Geneva branch of the Ukrainian Society in Switzerland came to be.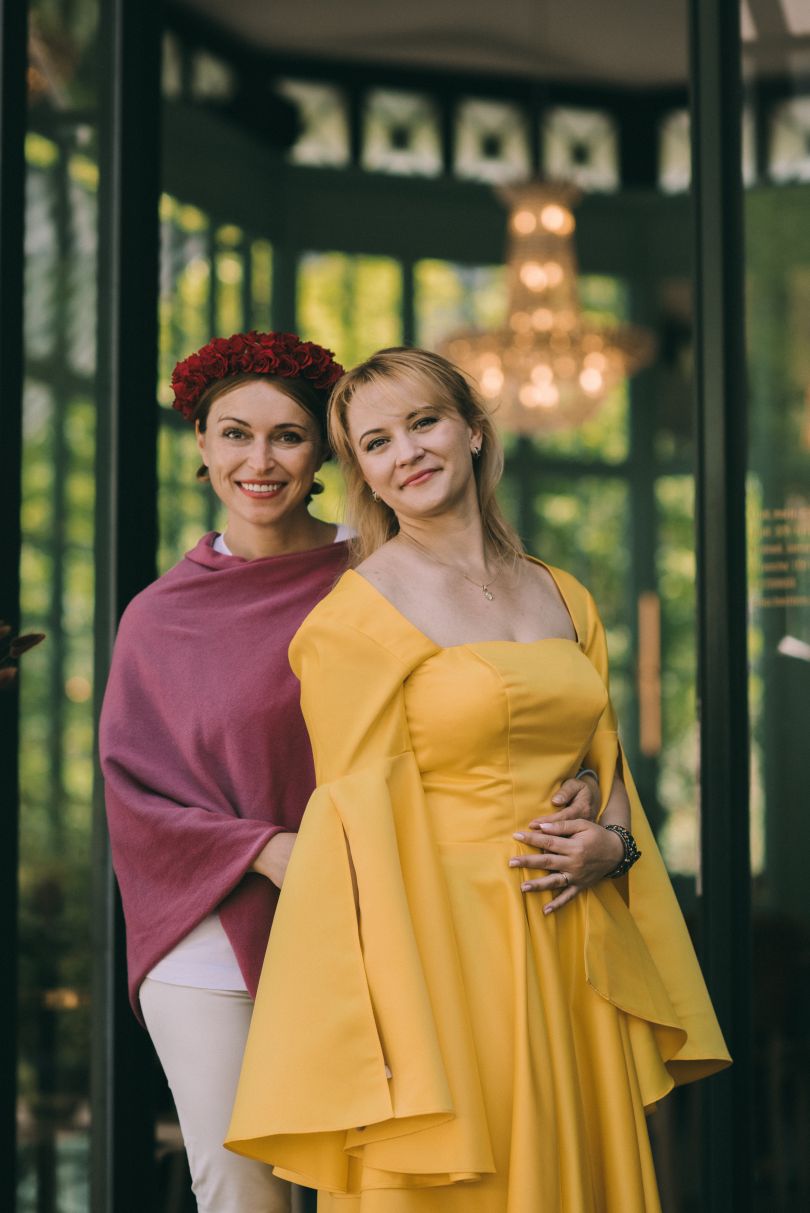 Oksana Kobzar, Inna Akhtirska
"In 2008, I only knew one Ukrainian in Geneva. However, after the night-time dispersal of student protesters on Maidan Square in Kyiv on November 30, 2013, a woman named Lida suggested that we gather with other Ukrainians in the square. I went to the square on December 1, where hundreds of Ukrainians had already gathered. That's where we all got to know each other, and since then, we've had non-stop protests," recalls Oksana. "Geneva is located where all the important organizations are - the UN, non-governmental organizations where people can seek support. Each time we went out with new posters, highlighting different issues such as the annexation of Crimea, the occupation of Donbas, and others. We raised questions about protecting Ukrainians in Donbas, protecting the rights of prisoners of war - issues that really needed to be addressed. I organized these protests, and a group of people began to come together around them, and we started communicating and becoming friends. In 2016, Inna arrived, and we immediately started working together, and other people joined us."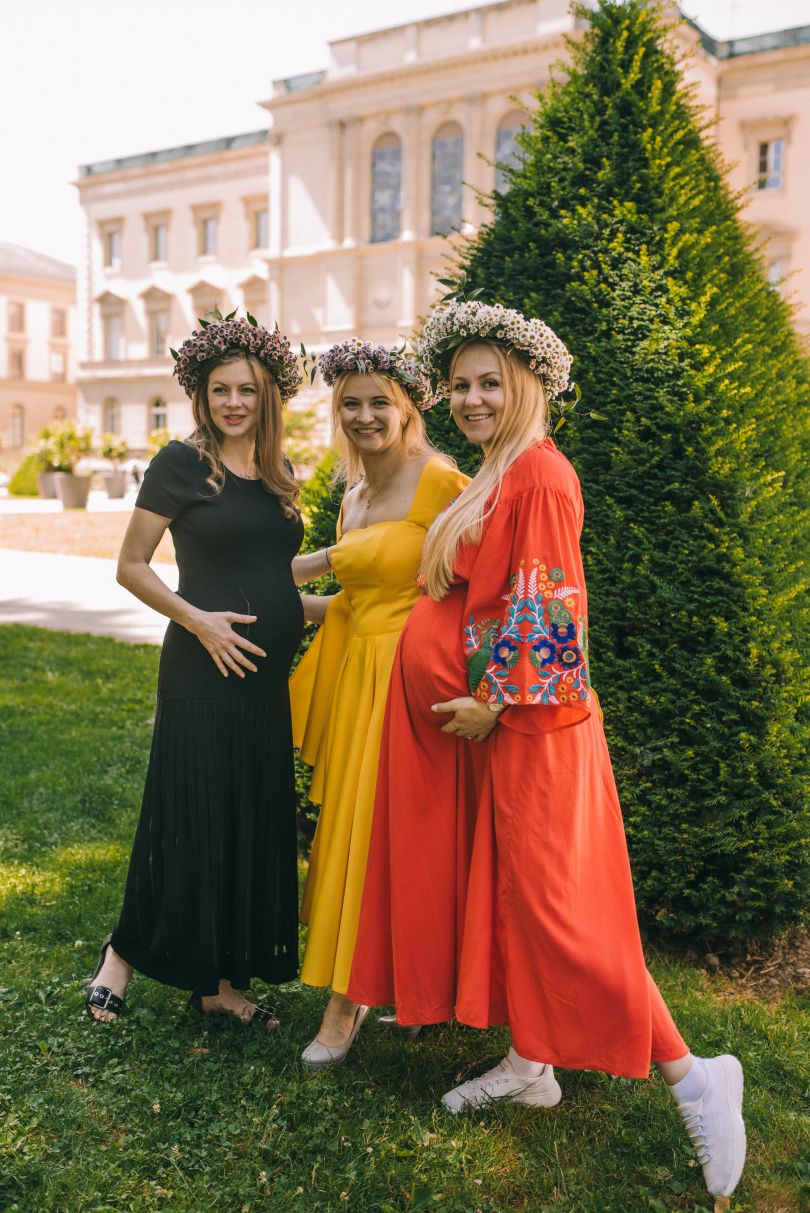 Maryna Romanenko (Association D), Nadiia Olarean. Inna Akhtirska
Inna Akhtirska, the head of the Geneva branch of the Ukrainian Society in Switzerland, originally comes from Kharkiv. Geneva became her home in May 2016, and even before her arrival, active members of the Ukrainian community proposed that Inna coordinate the activities of the Ukrainian diaspora in Geneva.
"My husband was working, and we had a family relocation by the company, so I had free time to focus on improving my French for a year. Moreover, I had experience creating educational programs between Poland and Ukraine. The topic of Ukraine was quite close to me, as I had been living abroad for 10 years and felt that I needed to help my homeland in any field: educational, linguistic, and so on. In the ten years of living in Poland, I felt like a member of the diaspora. Therefore, I was asked to create the Geneva branch of the Ukrainian Society in Switzerland and to lead it," Inna explained. "It so happened that at the same time, branches were being established in Zurich and Basel, but each had its own direction of activity."
For example, in Basel, the girls focused more on presenting Ukrainian national cuisine. They cooked dishes that were sold at various fairs, and the proceeds were donated to help Ukraine. On the other hand, the Ukrainian Society in Geneva took an educational and cultural direction that was close to Inna.
"We started with literary evenings dedicated to Oles Ilchenko. I had no experience in organizing rallies or demonstrations. I experienced the Orange Revolution as a student in the USA and I was not on Maidan. During the Revolution of Dignity, I was already in Geneva with a newborn baby, so I did not participate in it either," Inna pointed out. "At that time, my husband was here on a business trip, we lived like tourists, and I worked as a translator on Gordon's website and edited its English version to provide an information resource for foreign audiences and embassies. So I had some educational and journalistic work experience."
Humanitarian aid for Ukraine
Since 2016, Inna Akhtirska, Oksana Kobzar, and Olena Neskorod, with the support of the President of the Ukrainian Society in Switzerland, Andriy Luzhnytsky, have established a branch of the organization in Geneva. The core of the team consists of 14 people working in several cantons - Vaud, Fribourg, and Valais. It is important to note that the Geneva branch of the USS does not have a single leader, and all members of the association are an initiative team of like-minded individuals. If someone is absent from the activities for two months, the structure will not collapse. Over the years, people and their level of activity have changed, but with the start of Russia's full-scale military invasion of Ukraine, the project has grown into a stable and powerful one.
"Before the full-scale invasion, we had cultural events, literary evenings, Independence Day of Ukraine, family picnics, or Saint Nicholas Day celebrations for children. These events were held several times a year. But with the start of the full-scale invasion, we joined forces with the association "Children," which is now called Association D - in English, this stands for diaspora, democracy, dialog, discussion, and for Ukrainians - goodness, home, children (In Ukrainian language "dobro, dim, dity" - editor's comment). Our cooperation resulted in a large humanitarian project," Inna explained.
"When the full-scale war began, everyone acted chaotically, so each person took their own direction. Olena and Ildar took charge of logistics and transport. Oksana is responsible for media communications. I took on the coordination of rallies and demonstrations, and at that time, I participated in events in Bern and Geneva. Our main partners for rallies and demonstrations are currently Free Ukraine and the Swiss association Committee Ukraine. We do not cooperate with Russian associations."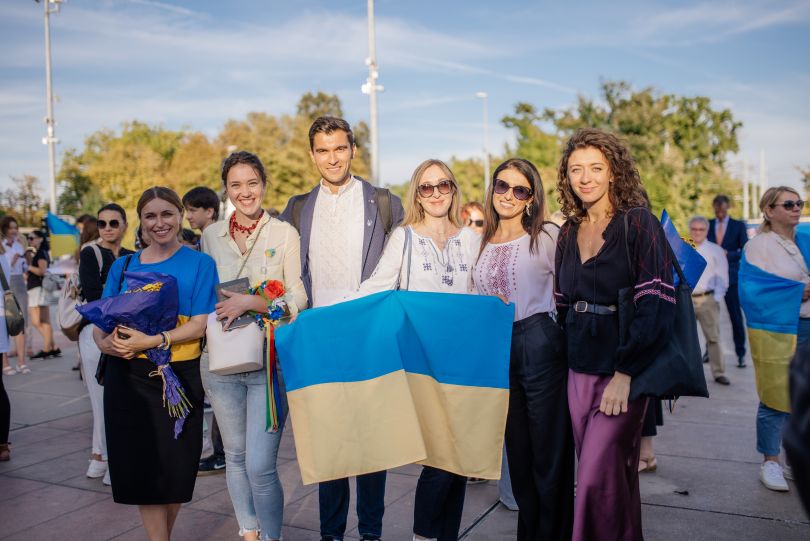 Overall, the organization covered 12 areas of work, including medicine, education, rallies, and more. They also helped create the integration project "Ukraine Reborn" for Ukrainians of any age who came to Switzerland. However, the team in Geneva focused on providing humanitarian aid to Ukraine.
"Oksana is from Sumy, I'm from Kharkiv, Olena is from Donetsk, Marina is from Yalta, but her family is from Chernihiv. Oksana and I found it the most difficult when our cities were bombed, and we couldn't contact our families," Inna noted. "At that time, I couldn't even walk due to stress, and it had a negative impact on my health. However, I didn't take any time off or sick leave because I needed to stay connected to reality, as I was in a state of shock. We started raising funds to send the first humanitarian shipments to Ukraine through Association D."
In the first days of the full-scale war, we managed to collect so much aid that we needed to find warehouses to store it. We found five warehouses for collecting aid. The first shipments were quite chaotic in terms of logistics because we had never dealt with delivering humanitarian cargo before. These were essentially shock shipments, said the coordinator of the humanitarian aid program of the Geneva branch of the Ukrainian Society in Switzerland, Olena Neskorod. "Now we are working according to a clear scheme that every warehouse employee knows: weigh, declare, monitor, control, report. From loading at the warehouse to delivering humanitarian aid in Ukraine, it takes about three days."
Olena emphasized that the team of the Geneva branch is very grateful to the Swiss, who have been supporting Ukraine powerfully from the very beginning, from providing warehouses for collecting humanitarian aid and logistical support to massive humanitarian aid efforts, when Swiss hospitals hand over medical equipment to Ukrainian medical facilities.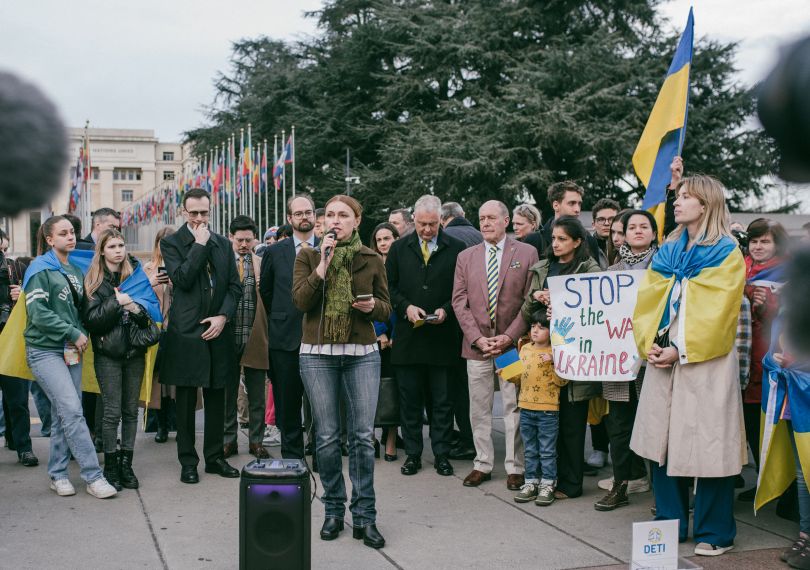 Political voice of the Ukrainian diaspora
This year, the Geneva branch of the USS has shown itself not only as a humanitarian organization but also as a political voice of the Ukrainian diaspora in Switzerland. A vivid confirmation of this is numerous rallies in support of Ukraine in Geneva and other cantons.
"When no one knows you, no one will give you money. Our first sponsors were friends of Mrs. Christina Batruk-Gavrylyshyn - wealthy Swiss, representatives of companies and Swiss businesses who only trust a person they personally know," stated Inna. "We were invited to a meeting of one of the committees of the Honorary French Legion, where we talked about our project. Then we began to receive donations ranging from one thousand to ten thousand and more. These were our first sponsors - a theater director, influential lawyers, and people with honorary titles, that is, the cream of society. Of course, this gave us our first funds, thanks to which we could operate, because without money, our activities would have been impossible."
The organization also received help from acquaintances, relatives, friends, colleagues, and their circles of communication, who began to donate. At work, the girls from the Geneva branch team distributed brochures, set up donation boxes, and people brought humanitarian aid.
Each member of the branch team, within the framework of their professional activities, approached the management of companies with a request for charitable contributions to humanitarian aid for Ukraine. This could be a discount on education for Ukrainians at a university, accepting free listeners, or other assistance.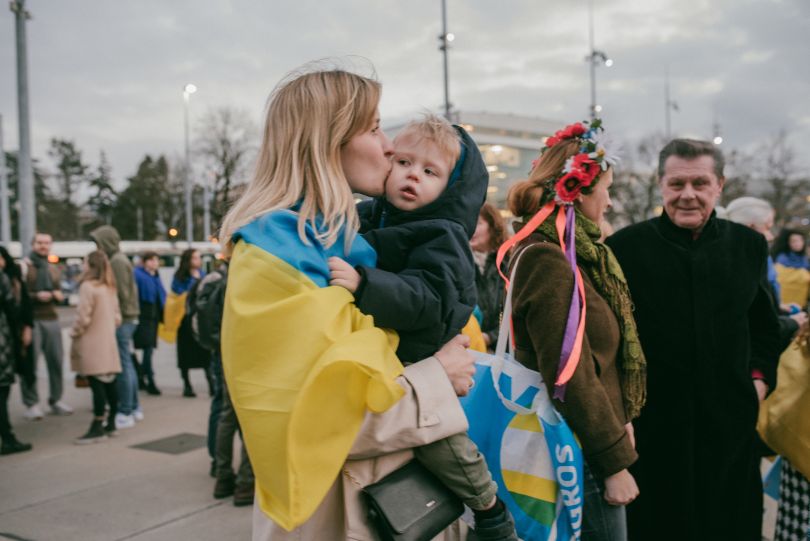 Switzerland - a nation of empaths
"The Swiss brought humanitarian aid to the Ukrainian embassy - the courtyard was filled to the brim with large black bags. However, the embassy has a different mission - diplomatic, and they do not have space or people for humanitarian cargo," notes Inna. "So we found warehouses and took on this task - we had built good relationships with the embassy. They entrusted us, we collected, delivered, distributed, and even delivered aid to specific addresses - which is very important for the Swiss."
For Oksana Kobzar, the past year has been particularly important, as it has changed her attitude towards people. She discovered the Swiss as a nation of empaths, who shared the pain of Ukrainians in difficult times.
"Before February 24, 2022, they were just people, just neighbors whom I see every day. They say that war is a negative emotion. But with this war, I really fell in love with the people around me. I did not expect such tremendous support from neighbors, colleagues, and people on the street," emphasized Oksana. "You just walk down the street, and you meet a Swiss grandma who asks if you are from Ukraine and just offers a hug. And we stand in the middle of the street, hug, and cry. It's something incredible. It was a wave of support from every person - with words, money, or items. My attitude towards the Swiss has changed a lot. Before, I just lived in the country, and now I love these people."
In addition, despite Switzerland's declared political neutrality, according to Oksana's belief, there is no neutrality among the residents of this country in their attitude towards the war in Ukraine. Their sincerity in their attitude towards Ukrainians is manifested in sentimental stories of help that they seek to convey through the Geneva branch of the USS.
Learning about the events of the war in Ukraine from the news, Swiss people brought the most necessary things for Ukrainians with open hearts. Once, a respectable Swiss woman brought a long mink coat to the warehouse to be sent to Ukraine for someone who had lost their home and needed protection from the harsh cold. These caring people want to warm Ukrainians not only physically but also morally, with their unwavering support in difficult times.
"Despite Swiss neutrality, it is a heavily armed country. Swiss people have come to us offering to donate their bulletproof vests, but it is legally impossible because their neutrality, attitude, and behavior during wartime in other countries are written in their laws. They cannot help the military," Oksana emphasized. "However, many agree that being neutral in times of war is to support the aggressor. In such difficult times, there can be no gray area - you are either white or black. You support one side, there is no middle ground."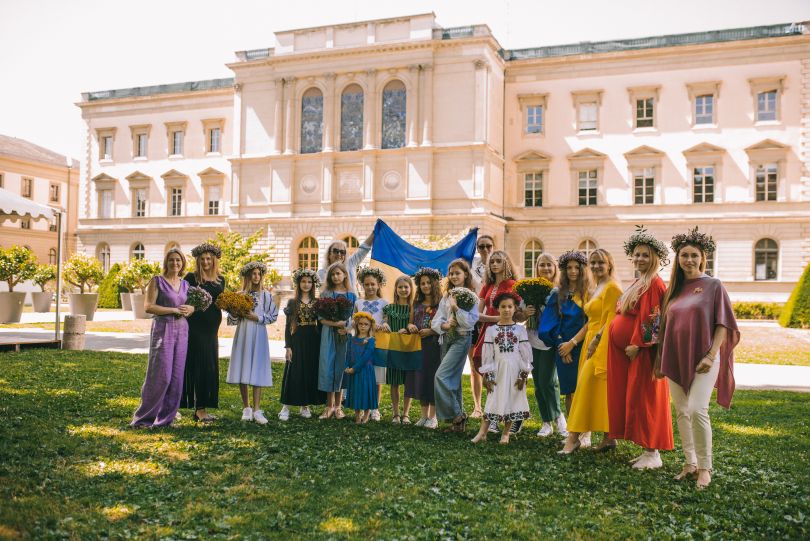 Helping Ukraine is an inner calling
The internal motivation of the team is based on the peculiarities of the Ukrainian mentality, according to Oksana. Ukrainians are open and make optimal use of the help they receive.
"Ukrainians ask for a fishing rod, not a fish - that's important. Ukrainians want to work: they ask for help in creating a small business, not just for money. Children ask for help with education and internships," emphasizes Oksana. "I learned from my experience that you should only help those who ask for it. If you come with your help, and the person is not expecting it, does not want your help, it is a dead project. Helping Ukraine is our inner calling. We have created an association, a center in Switzerland, where we help each other. Everyone contributes a drop, and as a result, a large project is achieved."
Despite solving operational tasks, Inna Akhtirska sees the reconstruction of Ukraine after the end of the war as a strategic direction for the development of the Geneva branch of the USS.. And this is a promising field of activity for the association.
"Of course, everyone is waiting for the end of the war, everyone wants to help rebuild Ukraine. We have people who have not left Ukraine, with whom we constantly stay in touch. We know what to do next. Money is needed to rebuild destroyed schools, hospitals. If every association takes on a project, it will already be a help," Inna emphasizes. "At the moment, the priority is humanitarian aid. We closely monitor the use of charitable funds and report on their spending to each donor. Even if this person donated 10 francs, we send a report. It is impossible to calculate how much of our own money we have invested in humanitarian aid outside of the cash box. This is, as they say, known only to God. It is important that everything is not about money. People are united by one idea - helping their homeland. This is where the strength lies."
Implemented cases. By the numbers:
Donations from 380 individuals, companies, and funds over the year - 786,609 Swiss francs;
Humanitarian aid:
Purchased and delivered to Ukraine - 1010 tons of humanitarian aid in 70 trucks;
20 collection points opened, where 700+ volunteers sort, pack, and load humanitarian aid for shipment to Ukraine;
6 pickups delivered to Ukraine for aid purposes.
Medical assistance:
23 equipped ambulances delivered to Sumy, Kharkiv, Chernihiv, and Kyiv regions;
26% of the budget directed towards medicine and medical equipment for Ukraine;
445 sets of specialized first aid kits, 270 tourniquets, bandages, antishock and surgical materials delivered to Ukraine;
2 special microbuses for children in wheelchairs delivered to Chernihiv.
Educational and integration assistance:
Opening of Ge CARE Ukraine with EDUHUB status, where 100+ workshops, consultations, and educational programs for 2000 people took place;
Distribution of humanitarian aid in the canton of Geneva and organization of special transportation for Ukrainian refugees;
14 scholarships for Ukrainian children in Lemanie and Champitt colleges.
Contacts
Geneva Branch of Ukrainian Society in Switzerland
https://ukrainian-diaspora-geneva.ch/
e-mail: info@UkrainiansInGeneva.ch
+41 (0) 79 948 74 18