With the beginning of russian full-scale military aggression, millions of Ukrainians were forced to leave Ukraine and go abroad. Switzerland was one of the countries that welcomed Ukrainians with open arms and became a second home for thousands of Ukrainian citizens. Ukrainian refugees were given a special status that opened up many opportunities for European integration.
The Swiss are discovering our country, our culture, our traditions, and see Ukraine as a perspective for development and cooperation.
In an exclusive interview, Iryna Venediktova, Extraordinary and Plenipotentiary Ukrainian Ambassador to Switzerland, explains what Ukrainians and the Swiss have in common, how the two countries work together and how Ukraine can be brought closer to victory.
- As a nation, we have had an unpredictably difficult year of challenges and trials. But even in the darkest of times, there is always light. What has this year been like for you?
It has been a year of realising that we are a united and extremely strong people. A year of tragedy and pride. A year of hope and a year of endless work. A year that showed everyone who Ukrainians are and what Ukraine really is. A period of intense gratitude to the people who stand, hold and hold our state. And another year that showed us the true friends of Ukraine. It was filled with the most negative and the most positive emotions in life. It was the year when something happened for the first time in the whole country. It was a tough, but very effective test of ourselves and others.
- This is your third month as Ambassador of Ukraine to Switzerland. This is a new experience. What new meanings have you discovered for yourself? What new tasks have you set yourself?
I presented my credentials to the President of the Swiss Confederation, Alain Berse, on 10 January. Actually, it was from that moment on that my official activity became possible - in Switzerland they respect the rules very much. My mission actually began with the World Economic Forum - an important and responsible event of the year. We organised productive bilateral meetings on the sidelines of Davos for the First Lady of Ukraine, Olena Zelenska, online talks with the Prime Minister of Ukraine, Denys Shmyhal, a series of meetings with the First Deputy Prime Minister, Yulia Svyridenko, and the First Deputy Speaker, Oleksandr Kornienko. The effective work of the Ukrainian delegation at the Forum, which sets trends for the whole year, is a great success.
The main task of every Ukrainian, whether a teacher, builder, statesman or diplomat, regardless of age and profession, is to do everything in his or her power to bring our victory closer. My goal is to attract as much investment as possible into the reconstruction of our state - the state of the future. Support for Ukrainians who have found refuge in Switzerland is always at the forefront. After the full-scale invasion, there were more than ten times as many refugees.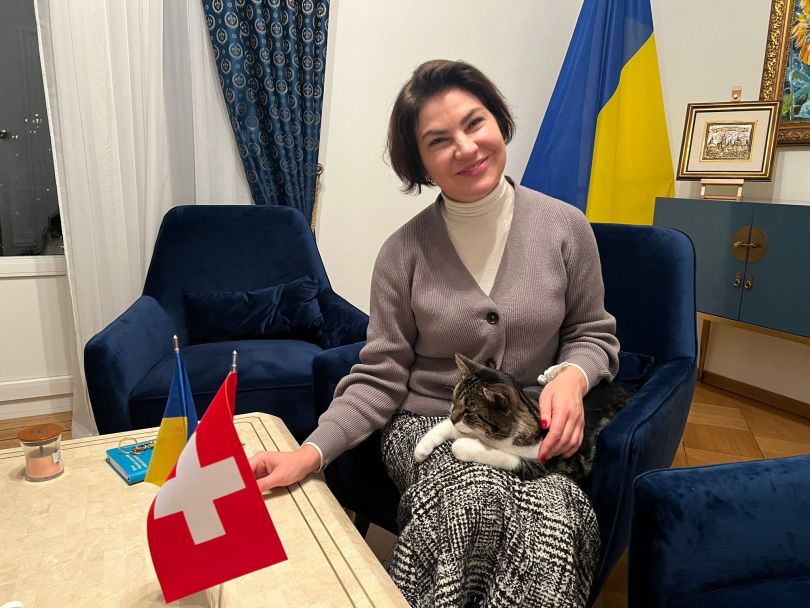 - The Ukrainian community abroad, particularly in Switzerland, has become very numerous. In this new context, how do you see the role of the Embassy?
The power of the people lies in the people themselves. The embassy should be a shoulder to cry on and a permanent bridge to the motherland. Switzerland has given our citizens a special status that allows them to work and integrate into society. Children go to local schools, learn languages, culture and history. This is incredibly enriching for people, and when they return, they will bring European values back home with them. We will win, our country will be safe and I am sure people will want to go back and rebuild their country and live happily in their own land. Of course, it will be their own choice.
Revealing Ukraine in Switzerland is our main task. Simultaneously to show Ukraine to the world - to the Swiss. We have to give Ukrainians, who are separated from their homeland, the opportunity to experience Ukraine. Above all, we have to make sure that our children do not forget Ukraine and our history, because adults are choosing their future with their blood. This support, this care and this connection will be the way home for Ukrainians.
- For the first time, Ukrainians are represented by a large number of associations and organisations. You were a co-initiator of the Coordination Council to bring them all together. How do you see the Embassy further interacting with these initiative structures?
Yes, it is very important for me to communicate with active citizens. Together with them, we look for ways to achieve the goals of their organisations. After all, we have only one goal - to save and develop Ukraine, and the variety of ways to achieve it only multiplies the results. That is why unity and coordination are so important - that is why we have gathered all the initiatives on one platform.
We also need to take care of developing the Ukrainian product. I have always been in favour of private-public partnerships. First and foremost - private. The state should minimise its interference and be a service and protection for its citizens.
We are currently planning a meeting between Ukrainian companies operating in Switzerland and Swiss companies operating in Ukraine. This is an important area where we also have to keep our finger on the pulse.
- What important Ukrainian-Swiss events/projects are planned for this year?
In the political context, we are currently working actively on the issue of weapons re-export licences, assistance in demining Ukrainian territory and sanctions policy. On the economic front, we are doing all we can to increase funding for humanitarian and infrastructure projects. Of course, justice and the prosecution of war crimes and aggression are important to us. In my previous position, I founded the International Coalition for Justice, and I continue to work to unite lawyers in this field.
We also pay a lot of attention to cultural and educational forefronts - the discovery of Ukrainian culture and national identity, the development of opportunities for our youth to become competitive in the world in all spheres.
- How has Switzerland received you and how have you received Switzerland?
In Switzerland, reputation, law and procedure come first. It is a unique country that unites different cultures, religions and languages. It is a country of very hardworking people who love their land. In that way, we are very similar. When we wrote the programme of presidential candidate Volodymyr Zelenskyi in 2018, Switzerland was taken as a role model in many ways. For example, in the development of direct democracy and the systematic expression of people's will through referendums, and of course - in decentralisation. That is why I am proud to be able to develop relations between our countries.
Switzerland has accepted me. I have 5-6 meetings a day, promoting the Ukrainian agenda. People here are very professional and open. I see Switzerland as an important country that should be our partner for many years to come.

- Now everyone will learn a lot about Ukraine, both Ukrainians and the rest of the world. What was the biggest discovery you made about Ukraine?
Ukraine is about life and joy, despite centuries of suffering and struggle. Ukrainians are a unique people. It is hard to imagine that it is possible to live under rockets and without light in a European country. This is an ordeal - entire towns without electricity or internet: hospitals, businesses, institutions, homes... But Ukrainians have learnt to live between worries, with schedules and without the benefits of civilisation: in new realities, children are born, marriages are registered, businesses work. Our people find answers to every challenge, algorithms for extremely difficult living conditions and, above all, the strength to live and act in order to bring victory closer. Everyone is on their own front.
The whole world admires the courage and steadfastness of Ukrainians. People in different parts of the world want to help us. I am proud that today it is honourable and important to engage with Ukraine, to contribute to its success, to share its pain, to be concerned and to care about its future.