The purpose of the Association is prompt assistance and support to Ukrainian families registered for protection and those who have received protection status S, as well as the transportation of humanitarian aid to the territory of Ukraine.
The peace march organized in the streets of Sion by a group of women of Ukrainian and Russian origin, attracted a thousand people two weeks after the war had started. Having participated in this demonstration, Marie Zimmermann was touched by this spontaneous outpouring of solidarity and by the number of individual actions (collections of basic necessities, clothing, medical equipment, convoys for Poland, etc.) that had provided the ray of hope. Impressed, she took control of the people involved in these actions and then invited them to join the association.
With all the goods collected from the Valais population and with the help of many volunteers, it was possible to open a food and clothing distribution center at Botza, in the premises lent by the Bourgeoisie of Sion, on March 12. Thus, while the Confederation and the Canton organized and implemented the procedures concerning the Permit S, the association was able to meet the vital needs of the first wave of refugees who arrived like an avalanche in Valais.
It is, without a doubt, due to the mobilization of the network of Marie Zimmermann and her volunteers that everything was put in place so quickly.
After the emergency, the association was able to open two other distribution centers (thanks to the City of Sion and the Commune of Noble Contrée) and set up French courses, which began in June and continued throughout summer, with the help of volunteer teachers.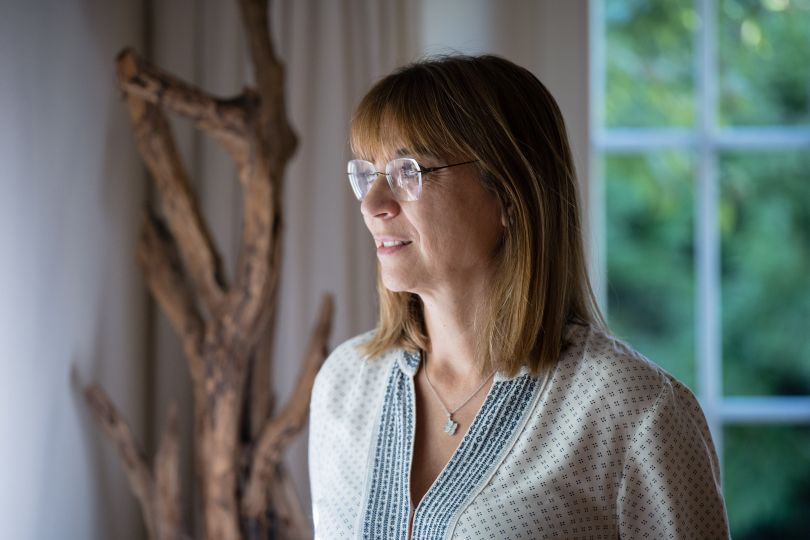 Marie Zimmermann
Studies in Political and Social Sciences, specializing in public policies and volunteering

Involved in many associations, as president, vice-president or member of board
Consultant and Director of Global & Medical
Regional Manager of the Fondation Compétences Bénévoles
Nataliya Kontsur, editor-in-chief of the Destinations.ua, spoke about the beginning of the work of the Association and the subsequent development of charitable activities in favor of Ukrainians, her personal family history and its ties with Ukraine.
As I was going to meet Marie, the key question for me was why exactly she created this association and what linked her personally to Ukraine? And I got it.
I was invited to a cozy little house in the center of Sion on a sunny winter morning. I already felt that the conversation would be informal. And my intuition came true: these qualities were familiar to me - hospitality, warmth - as in a children's game "hot – cold" I approached the answer to my personal question.
Upon entering the living room, the first thing I saw was the pictures of children dressed in embroidered shirts, typical Ukrainian ethnic clothing. "She is my beloved daughter, now she is already 26 years old, however, she is still smiling; and my 22-year-old son, who unfortunately suffers from a rare disease''.
- Marie, what links you to Ukraine? I'm sure that's the reason why you organized and led the association a week after the war started.
Ukraine is the homeland of my adopted children, it is the place where my heart lives (a country that is very dear to me). My husband and I happened to be unable to have children and in the mid-90s we decided to adopt.
Thanks to Elena S., a Russian doctor working in Geneva, I was introduced to a wonderful family of well-known hereditary doctors in Ukraine, people of a high level of culture and education, intellectuals, who were fluent in four foreign languages, and who had helped us to solve this difficult question.
Acquaintance with the Bogomolets family and their relatives, Elena T. and Sergey M., has turned into a long warm friendship that we still maintain, for over 25 years. Our friends have chosen to stay in Kyiv and resist the invader, but we remain in contact with them… I remember with tenderness and a little sadness those difficult years of the beginning of Ukraine's independence. In the house of this family was the piano, which Svyatoslav Richter played himself, but for dinner there could only be boiled potatoes. Believe me, these were the best potatoes that I have ever eaten in my life. In those years, the inhabitants of Ukrainian cities did not have much means and yet they welcomed us with open arms, sharing with us the little they had. The Ukrainian people helped us then, now it's our turn… Already at that time we created an association (Innoushka International), which supported the Ukrainian orphanages for more than a dozen years.
"From my experience, I can say that Ukrainians are proud, strong, positive, friendly, faithful and loyal"
- Under what circumstances and when did the Association Ukraine-Valais arise? What are the main tasks and goals? What was accomplished during the six months of war?
When the war in Ukraine began, I was with my parents in Spain, where I come from. It was impossible to believe the news - how can such an aggressive war on the territory of Europe be at the beginning of the third millennium? I was constantly in touch with my Ukrainian friends, my relatives in Valais, and immediately started to think, what can I do and how can I help? A couple of days later I was back in Valais and on the 4th of March I attended a large-scale rally in support of Ukraine, where I met many who later joined the association's operational team. My experience in structuring and organizing communities and communications in the canton, the support by influential and wealthy people who turned out to not be indifferent in this situation helped to solve many problems in the shortest possible time.
We did quite a lot, of course, you can see it on association's website - the team that I managed to assemble in the shortest possible time was able to open the first store on the 12th of March, which worked 24x7 for the first couple of months and gave all the refugees the necessary things - food for the first time, clothes and shoes, personal care products, children's toys, diapers and milk formulas. At this time, a team of volunteers, most of whom were Ukrainian women, who had lived in Valais for a long time and whom we met at the rally, collected boxes of goods and products, distributed them by sectors and refilled the Ukrainians who were waiting for help. They helped with translation and all organizational issues for each individual. There were lines of people who arrived with just a suitcase, completely confused and helpless. And while the confederation was creating different protocols for the refugees, our team tried to provide them with vital positions which the country did not have enough of, and it all was laid upon the shoulders of the created charitable association and my operational team.
"The sanctions adopted by Switzerland against russia and the departure from its strict neutrality demonstrate that Switzerland is on the side of Ukraine"
We were helped by a huge number of residents of Valais, whoever could, and the volunteers, taking time from their families, while maintaining their main activities, worked around the clock - it was spontaneous and chaotic, now we understand this, but it was extremely necessary.
My acquaintances and strangers called and offered to settle Ukrainian families for the first time. We helped and continue to help as much as we can, although since mid-April we have received verified protocols, based on which the settlement of refugees will be handled by the confederation centers.
But we still support humanitarian stores, where Ukrainians can take clothes or household items for free once a week, diapers and milk formulas for babies are always available there.
In addition to this sector of operational assistance to Ukrainians here in Valais, we were able to organize the delivery of humanitarian aid, medicines, and medical equipment to the borders of Ukraine, where verified associations transported the goods to hot spots. In May, we organized a big concert in Gianadda Fondation to collect money. And at the beginning of summer, we were able to take part in the action that took place on Market Street in Sion, where Ukrainian women in woven wreaths sang songs, served homemade pastries and thanked the local residents for their support - it was a very beautiful project. To integrate our society and communicate with Swiss people, it seemed very important that we were able to open free French language courses (6 groups, 2 times a week).
In any case, for today, I want to say that the Association compensated for all the organizational and operational issues that the Confederation Council did not have time to solve by adapting the rules for the implementation of S status. We have been constantly told that there is no ready solution yet, but people needed something to eat and feed their children, they needed goods and lodging, and this applied to the entire canton, without exception.
— How many people work in the association's team and are there Ukrainians among them? What financial channels exist to support the association's work and how are the priority tasks being selected?
M.Z.
There are 9 people in the association committee, including one Ukrainian woman and we have about twenty additional volunteers, Swiss and Ukrainians, to manage the shops and French lessons.
The association does not receive money from the authorities, receiving financial support only from donations, private individuals and private companies.
"In the house of this family was the piano, which Svyatoslav Richter played himself, but for dinner there could only be boiled potatoes. Believe me, these were the best potatoes that I have ever eaten in my life"
- The aggressor constantly says that this is an internal conflict between two countries, and Europeans feel the effect of "war fatigue" - this is one of the types of russian tactical propaganda used in the information war - how exactly do you perceive this situation?
I think that the Swiss population was genuinely shocked by the russian aggression and gathered a lot of funds and items of first aid for Ukraine, as well as participated in the spontaneous lodging of refugees. Switzerland felt close to the Ukrainian people — geographically, ethnically, culturally, sharing democratic values, and the global nuclear threat brought our peoples even closer together.
Experts believe that this war will continue, the mass media talk about the war every day. The economic and energetic consequences of the war for every Swiss are considerable. There are risks that the population will be focused on their problems.
I do not believe that russian propaganda has a strong influence on the Swiss and Europeans, no one believes russian arguments to justify this war. The sanctions adopted by Switzerland against russia and the departure from its strict neutrality demonstrate that Switzerland is on the side of Ukraine. The following population surveys will tell us more about the evolution of their opinions and feelings.
- How do you see your further development, which priority areas do you want to concentrate on?
In autumn 2022, I decided to leave the presidency of this association to feel more free in my concrete actions for refugees and Ukrainians. In fact, the goals and rules of the association prevent me from responding to Ukrainians' requests and helping them as much as I would like.
I therefore continue to open my network to the Ukrainian community and to Ukrainians who request it and have professional projects. Since then, I have found meeting spaces to allow refugees to organize themselves for cultural or recreational activities (choir, musicians, dance, library, crafts, manual activities for children etc.). Together, for Christmas, we organized activities and concerts to collect money to help children and mothers still living in Ukraine and to send humanitarian help to Ukraine.
I am happy to know that the Ukrainian diaspora in Valais is creating its own associations, like all foreign communities in canton, to organize cultural events and support its members, who are scattered throughout the Valais and housed in groups. I am convinced that in order to integrate, you need to be morally strong. Sharing and experiencing positive moments with your compatriots can be a big help in this.
Marie, you have known Ukrainians for a long time from the most diverse social strata. Who are Ukrainians? How do you see them today, in a few words?
I was very lucky, because during my stay in this beautiful country of Ukraine, I met many wonderful people.
Whether they were university professors or simple workers, they helped us and welcomed us into their homes with unforgettable generosity and an incredible sense of hospitality! From my experience, I can say that Ukrainians are proud, strong, positive, friendly, faithful and loyal.
Photos : pomona.media/Alain Amherd