This is evident in her extensive list of exhibitions that took place in significant venues: three times in the Louvre exhibition hall in Paris, as well as in the Salon des Indépendants; in London, Tokyo, twice in Luxembourg, Barcelona, Biarritz (France), Blanes (Spain), Riga, Rome, New Jersey, and Gdynia. She participated in two international auctions - in New York and London.
Despite living in Ukraine her whole life, Alla currently resides in Poland due to the war in Ukraine, a country she also feels strongly connected to. This is somewhat linked to the remarkable history of her origin and lineage, which, despite being documented reality, resembles a novel, a historical saga.
Our conversation began with the present - about the war, adaptation to life, and the professional realization of a creative individual beyond her country's borders. Then, we discussed continuous hard work, spirituality, honesty with oneself, struggle, and a deep sense of victory.
How did the full-scale war begin for you?
I'll start with an interesting moment. I have a studio gallery in Bila Tserkva, which has been around for about 20 years. Before the war, I spent most of my time there - working, communicating with visitors, and conducting master classes. The last time I was there was two days before the start of the full-scale war. At that time, there was no one there besides me. And suddenly, I felt like filming one of the rooms. Then I went to another room, then into the workshop. I looked at my gallery, closed the door, and left.
Studio-Gallery in Bila Tserkva
As if saying goodbye...
Yes, it turns out so. My daughter and granddaughter, who was one and a half years old, came from Kyiv to Bila Tserkva. The war began. Our family decided that my daughter, granddaughter, and I should temporarily leave Ukraine - go to Poland.
In September 2022, a delegation from our sister city, Bila Tserkva, Ostrowiec Świętokrzyski in Poland, visited us. One of the delegation's representatives bought a painting, and we talked for a long time. He mentioned that they have an exhibition hall in their town and that he and his wife love art very much... I found his business card, called him, and asked if we could visit at a certain time. He said, "Yes, of course, come!"
However, at that time, I only read his name - Piotr Dassios and only noticed that he was the vice mayor of that town at the border. I sometimes show such carelessness; it has happened to me all my life.
We arrived in the town early in the morning, but close acquaintances of Piotr immediately provided us with accommodation.
My husband, who brought us there, returned home after two days, and we stayed.
What were your predominant feelings back then?
Misunderstanding. Probably everyone couldn't understand how, in the 21st century, in the center of Europe, this happened... We weren't prepared; our generation grew up in times of peace.
It's hard to be prepared for something like that.
Yes. It wasn't easy, but I realized I needed to focus because these emotions wouldn't help. I told myself: yes, I can't change what happened, but there's something I can do. And I must do it. Paint! I wanted to show that although we are refugees needing help, we're fleeing from war and saving our children, we are not entirely helpless. We can do something. And I had a strong belief that we would also help. We would also act. And sometime later, on the Independence Day of Ukraine in 2022, there was an auction in Kielce, Poland, to help Ukraine. I participated with one of my paintings. It was sold for a reasonable amount, which I donated to the Armed Forces of Ukraine.
You cant stop painting?
Yes, that's right. I can't do anything else. Then Marcin and Katarzyna - my friends now - said I could do some work at their home while they hadn't prepared a studio for me yet. So, I painted at their place for two weeks.
And after some time, I was given a studio, where I spend most of my time. I paint with oil paints in the studio and with acrylics at home.
Uninterrupted creativity... So, it seems your main way of integration is work?
Probably so. As they say, a person lives as long as they work. And work is also a way of communicating with people.
You already speak Polish quite well. Did you know it before?
The thing is, for 9 years, I, along with historian and genealogist Yevheniy Chernetskyy, a candidate of historical sciences in Ukraine and a doctor of historical sciences in Poland, studied my paternal lineage. So, I read many documents in Polish, listened... Maybe I can't speak it very well, but I understand it 100% and comprehend it when spoken. Regarding speech, I still have a particular accent.
Do you feel at home in Poland?
Yes. I don't feel like a foreigner here. I don't feel like the people around me are strangers; I feel completely at home.
Interestingly, my ancestors on my father's side come from the places where I now live. It turns out I ended up where they say, "The umbilical cord is buried."
So, the land literally called you.
It seems so.
How do you feel and maintain a connection with Ukraine?
Both Poland and Ukraine are dear to me. My children were born in Ukraine; I'm Polish by blood and lived my whole life in Ukraine. So, this connection is as strong as a blood tie. One land, another... I think you can live in two countries, in two places, and feel both as your own.
You plan to maintain this strong connection with Poland?
I can't even understand how I can leave everything here and not paint or come home and not paint there. You see, it already has this dual meaning.
Poles treat Ukrainians very well; they are concerned and helpful. This sincere assistance is incredibly touching and provides moral support.
Symbolically for me, during World War II, Ukraine sheltered my father. During this war, Poland welcomed me with my daughter and granddaughter.
And you know, when I was searching for my family, studying history in Poland through original documents and old films, I understood how much Poles despised, truly hated Russians. But I must confess, I grew up with this feeling in my family from childhood.
And there is a reason for that.
I'll ask a somewhat controversial question. War is terrifying. But for some, it brings additional opportunities and time for reconsideration. Do you have such experiences?
No!
Well, Poland appeared for you...
Poland would have appeared, maybe a year later, but it was in my plans. And war - it's terrible. I am curious to know what opportunities it can bring.
Perhaps for self-development. People transform something within themselves...
I don't understand that because a person is always involved in self-development when they want to be. I've heard that war opens up some opportunities, but I don't feel that because I've been working on myself all my life. My whole life is self-development.
"Olenivka"
I agree that we don't need something so terrifying to work and change. Tell us about your family, your father, and your path to restoring your family's history.
My father was born in Volhynia, which was part of Poland. But when the USSR invaded those lands in 1939, he was taken as a little boy to the Cherkasy region. He lived his entire life under a false name. Still, he remembered and told us everything: about the palace, the church, the family... He made sketches and mentioned specific names and surnames. He really wanted us to remember who we are.
In 1994, a relative aunt visited my father. She asked my sister and me to go to Holoby to save the palace because it was being destroyed. But my father was terrified. We grew up in the Soviet space, so there was something to be afraid of. And so, we didn't go then.
My sister and I went there after our father died when the war started in Ukraine in 2014. Those events resonated with me deeply due to our family history... I had very strong feelings about it.
I should also mention that at that time, in Holoby, I saw everything just as my father had described: the number of columns in the palace, where apple trees grew in the garden, where the lake was... Everything.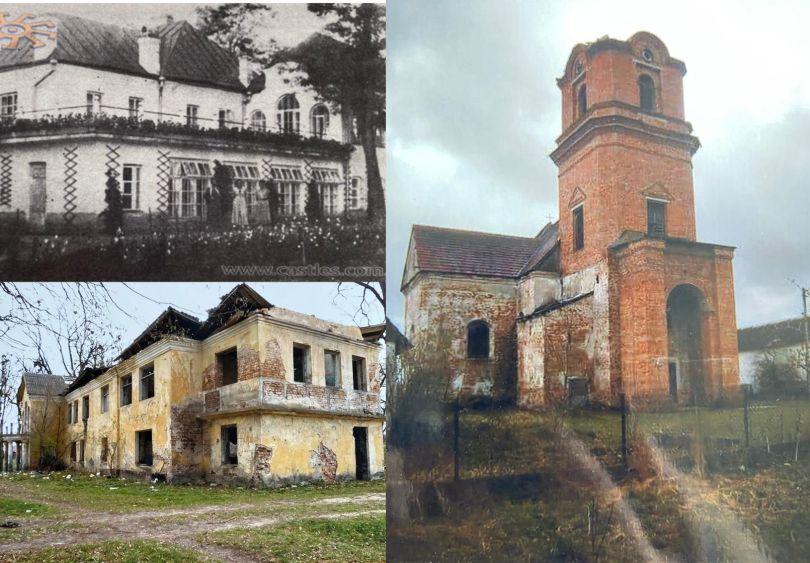 But the palace was ruined, as far as I know.
Yes. Until 1993, it was a children's home, then it was moved to Kovel. And then people started taking off the windows and doors... Now, it's in a very sad state.
When we arrived and entered the church, I was in despair over its condition. And I decided that since saving the palace was impossible for me due to financial constraints, I could do something here.
The worst part was that salt was stored in the church for a long time, causing the frescoes of the Austrian artist Joseph Pröchtel from the 18th century to start deteriorating.
The church had been cared for by famous Polish families for 300 years: Jaruzelski, Wilgi, Potocki, Bozhedar-Podhorodetski, Roniker, and Podlevski. I felt that I had a calling to restore the memory of my ancestors, so I painted the coats of arms of these families to display in the church. The book presentation about the Archangel Michael's church was dedicated to this solemn event. The book was authored by the historian-genealogist Yevhen Chernetskyy. Bishop Vitaliy Skomarovskiy of the Lutsk Diocese attended the event with his clergy. Representatives of other confessions were present. Guests came from Poland, and there were television crew journalists. A large number of people gathered. I was extremely happy that this event attracted a lot of attention not only from the residents of Holoby but also from Kovel, Lutsk, Kyiv, and Bila Tserkva.
What does restoring your family's history mean to you?
Firstly, I do it in memory of my father. It's terrifying when a person lives through their entire life.
Secondly, I do it for my descendants so that they know everything.
So, do you already have the book "Counts Roniker" by Yevhen Chernetskyy?
The first volume is available. There will be more to come...
Did you find any information about the roots of your artistic talent during your searches?
There were artists on both sides of the family.
How did you become an artist?
I've always been drawing since childhood. My father, who knew how to draw as he received a quality education at the palace in Holoby, taught me the basics.
My parents believed I should acquire a strong profession; if I wanted to paint, I could always do it. Having obtained an engineering degree, I'm grateful to my parents for their foresight. I have my path, worldview, style, and signature as an artist. None of the other artists could sway me from this path.
How did you manage that? You've built an independent level of education!
When I was seven, my parents took us to the Hermitage. I remember standing fascinated in front of Van Gogh's paintings and finally saying, "I will be an artist, and I will paint like him."
For many years, Van Gogh remains my favorite artist. I have been to the museum in Amsterdam several times, studying his craft. But it turns out that my first childhood calling moved me. That's when I felt I wanted to leave my emotion, my impression on canvas. And I consistently learned how to do it.
Have critics identified your distinctive style in any way?
The last critic, Polish art historian Marian Rumin, wrote that I am a post-expressionist.
"Energy of belief and life"
Do you agree?
Yes. And an abstractionist, too. I'm currently working on abstraction.
I decided some time ago that I needed to see the great artist's paintings in person because I had to understand why they lived for 500, 300, or 200 years. And I understood why.
Why?
The first reason is my secret. Second, you must approach the image, the canvas, genuinely believing. You must put all your energy, love, and everything you know onto the canvas. The expression can be on the canvas if it's positive. But to convey a philosophy, you need to express your thoughts. But negativity should not be there.
I've seen paintings from your "Jewish Series," even through a monitor, I felt a powerful energy. Remarkable.
Thank you. It's incredible, indeed. I respect these people who live united worldwide, believe, love their history and traditions, and never forget who they are. I've had many exhibitions on Jewish themes in Ukraine and beyond. In Riga, for example, up to the 70th year of the Holocaust... I left some of my paintings there as a memory for these people. And I brought the "Jerusalem" series to Poland. I worked on the "Holocaust" series in 2015.
And then I painted ten churches in Ukraine – Volyn and Galicia. There were supposed to be exhibitions in Kyiv, Lviv, and then in Lutsk. But then the war broke out.-
These paintings are now with me in Poland, and I think I will continue – I will paint Polish churches. For me, this is an exhibition about the spiritual side of people. The main painting is "Energy of Faith and Life," depicting a red tree. This tree is like roots that nourish everything. Like an artery of faith and life.
Now I understand why I painted churches back then. When the war began, Poland extended a helping hand to us. This is forgiveness for everything that happened in our shared history. And these churches are probably a very ancient connection between us.
"Mariupol"
What are you currently working on? Where is your expression heading?
I have painted four pictures about Ukraine, about what is happening now.
I depicted Mariupol, Bucha, and what I call "10-10-22". This is about the attack when 83 rockets flew towards Kyiv. I remember holding the phone and talking to my daughter; she was with my granddaughter in Kyiv... And there they were flying, making noise. I read and watched all the news... And I kept painting. I couldn't do otherwise.
And then, another painting depicted events in Olenivka when enemies staged a terrorist attack in a place where our captives were held.
Now, I want to continue painting Ukraine. I already have two pictures in my head. They already exist; I need to transfer them to Canvas. But when you paint such works, it's very exhausting.
I distanced myself from those four that I painted for a month. Now I've put them away because I can't look at them yet – that pressure starts in me again.
"10-10-22"
So, it doesn't get easier after translating it onto the canvas?
No, because I'm entering that moment, and I feel that it's heavy. I have to fulfill what I'm writing.
And later, I painted a cycle of eight pictures called "Confrontation." I remember just painting, painting, painting again. And when I finished, I thought, "What have I done?" I put them one after the other and saw that it was 8 months of my life in Poland. It was about my formation here.
After that, I painted the cycle "Tango" – as a symbol of my life because every person dances their dance; for me, it's a tango with its passion, diversity, periods of activity, and relative calm.
And then there were "Perfumes" – a cycle I wanted to paint for a long time, about ten years already. It's about scent, a real woman who chooses her fragrance regardless of anyone, and the trail she leaves. Both cycles have ten pictures each.
Do you plan to exhibit them?
I have an exhibition in Poland, but we will plan something else. But for that, I need something to show. I want there to be a choice of different themes. When you only talk about one thing, show one thing, it could be more interesting. And when there's a diverse selection, then it's much more engaging.
So, you're continuing to work?
Yes, I still need to work.
To conclude our conversation, tell me, how do you feel about the future? Will there be victory? It seems to me that artists can sense that.
By the way, I knew that there would be a war. In 2021, I painted a picture – "Dance of Peace and Victory". People are dancing the hopak on it.
It hangs in the Office of the Human Rights Ombudsman in Kyiv. They say no visitor wouldn't be moved or touched by this painting. Delegations from different countries visit there. Before that, it was printed in the book "World Art. Old Masters and 40 Contemporary Artists of the World", published in 2021. There are paintings from the Prado Museum, MoMA, and the Guggenheim. The most famous artists, and I'm also there with that painting...
And there's victory in this painting.
Yes, there's victory in it. And it will happen.
In 2011-2012, I painted a cycle I have yet to show anywhere. No comments, exit. "No comments, exit." It's like that...
A premonition?
Yes. A premonition of what will happen. And an understanding that there's a way out and always will be. And there's victory. And peace. I think all our soldiers in Ukraine are dancing that hopak now. When I planned to paint that picture, I read a lot about the hopak and watched old films – the dance is very powerful there.
There's even a concept of "battle hopak"...
Yes, exactly. I meant that. In the painting – the image of a warrior Ukrainian and the struggle of Ukraine.
It's a dance of peace and victory. There are doves and Ukrainian ribbons depicted. And you get a clear sense that everything has already ended. Everything is so peaceful...
"Night covered in gold"
So, victory and peace will come?
Of course. How else? How?! It can't be that some Russians would win. There can't be victory without it.
Unfortunately, they managed to do so before and enslaved Ukraine for over 350 years.
But the time to win has come. Otherwise, it's simply impossible. They need to know that the Moscow swamp is the place they need to return to.
You know, it's hard for me to experience everything that's happening at home right now. Very hard.
But in Russia, it's even worse. Those zombies... It's much scarier; it's some kind of nonsense, madness. Something completely illogical.
A person must be able to distinguish between good and evil; there must be that artery of faith and life. Faith in good, in people, in the surrounding world. When you live, work, and have plans. When you work on yourself.
It turns out that I always have to work, work a lot. I've had about 50 solo exhibitions in Ukraine alone. That's a lot. And every exhibition is a great work on myself. And that effort on oneself and work – that's life. How else can one live?
Honesty with oneself and the world, the search for one's own truth – this is Alla Roniker's uniqueness as a person and an artist, something that anyone who sees her paintings and directly interacts with her can feel. Honesty and honor, self-demand, the ability to feel the energy of faith and life, to let it pass through oneself and transfer it to the canvas... Perhaps this is what makes people stop in front of her paintings, delve into contemplation, empathize, reflect, and become co-creators with the artist and join the pulsating artery that is manifested in most of her artworks. And this is the added value, or rather, the value of a higher order, that we can touch by immersing ourselves in Alla Roniker's Universe.