Zamkova Mountain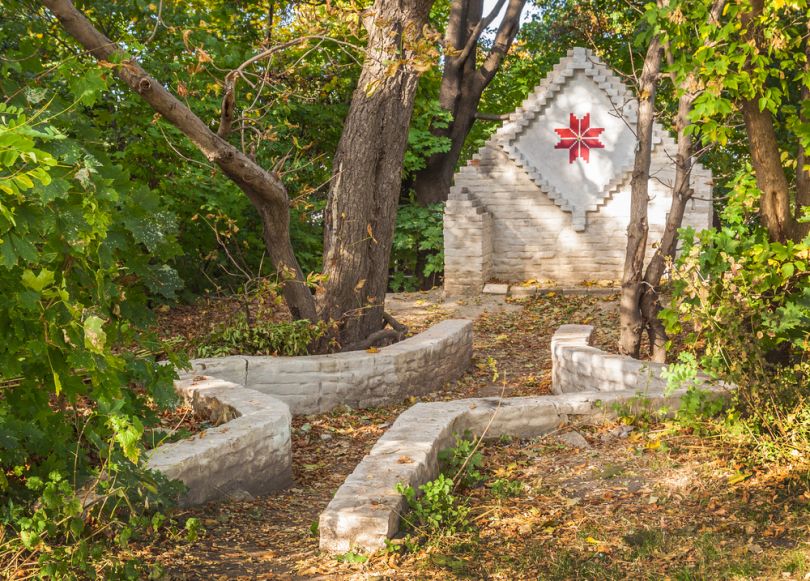 Some people believe that Zamkova Mountain near the famous Andyivsky Descent is one of the locations where Kyiv witches and magicians used to come for their Sabbath in the old times. Before the invasion of the Mongols and Tatatrs, the residence of one of the Kyiv princes was situated here – that is why the mountain got its name "Zamkova Hora" ("Castle Mountain"). In 1816, a graveyard was arranged on the mountain, so if you go up there nowadays, you can still find old creepy half-ruined tombs and crypts. The mountain has been recently assigned the status of historical park; however, its territory, covered with thick greenery, looks quite abandoned. This spot is definitely worth visiting to see a beautiful panorama over Podil and the Dnipro River.
Lysa Mountain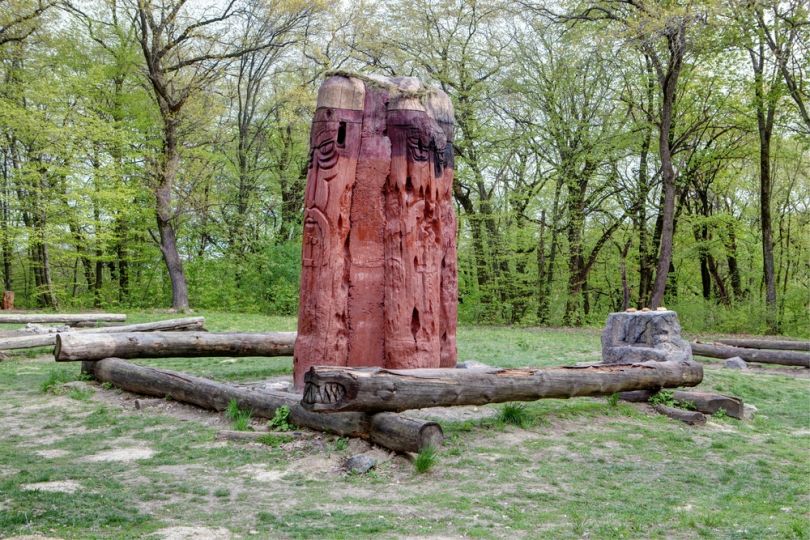 Lysa (Bald) Mountain is notorious for the number of people who have died here in the different periods of history. In 1240, the Khan, who invaded Kyiv, buried around 1000 Kyiv dwellers alive in the Lysa Mountain`s underground caves. In the beginning of the XVIII century, the duke Menshykov ordered to build a powerful fortification with underground water reservoirs here. After the construction was finished, the cruel duke put the peasants who had built it into these underground wells. In such way, poor people were drowned in the reservoirs they had built by their own hands. In 1906, Lysa Mountain became a place where so-called "state prisoners" were put to death. In the period of Nazi occupation of Kyiv, a German tank division was located on the mountain, and many soldiers reported about scary "unexplainable experiences" they had here. Some of the soldiers have even gone mad and committed suicide. Unfortunately, even nowadays Lysa Mountain is well-known for a large number of suicides – from 1 to 5 every year. However, many people interested in esoteric and occultism love to visit this place – at least to see a real pagan temple hidden here in the deep forest.

Green Theater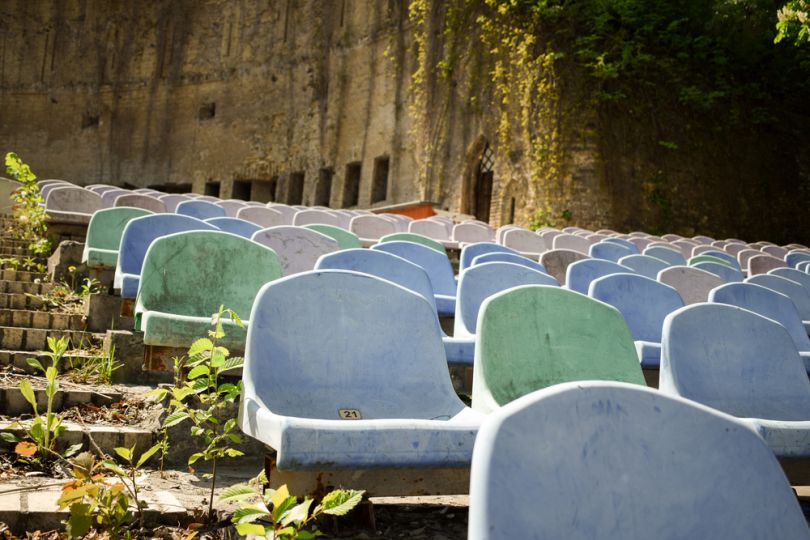 Modern Kyiv Green Theater is actually the remains of the Pechersk fortress constructed here in the XIX century. This old building that looks like an ancient amphitheatre has a large system of catacombs, often visited by diggers. Besides, nowadays Green Theater territory is used as a nightclub (re-opened in 2018). The theatre is ill-famed for numerous fires that took place here in different years. Some people say that this place is "fire-cursed" so that it will be burnt to ashes again and again. Others tell even scarier stories about a graveyard for suiciders and unborn babies that was located here long time ago; about the portal to another world that still can be found somewhere in the theatre`s dungeons; about the sound of the Medieval battle that is heard from the underground. No one knows if these stories are true or not, however, they keep the gloomy atmosphere around this area. Green Theatre is one of the favorite places of mystics, esoteric experts and heavy metal music fans.
St. Volodymyr`s Hill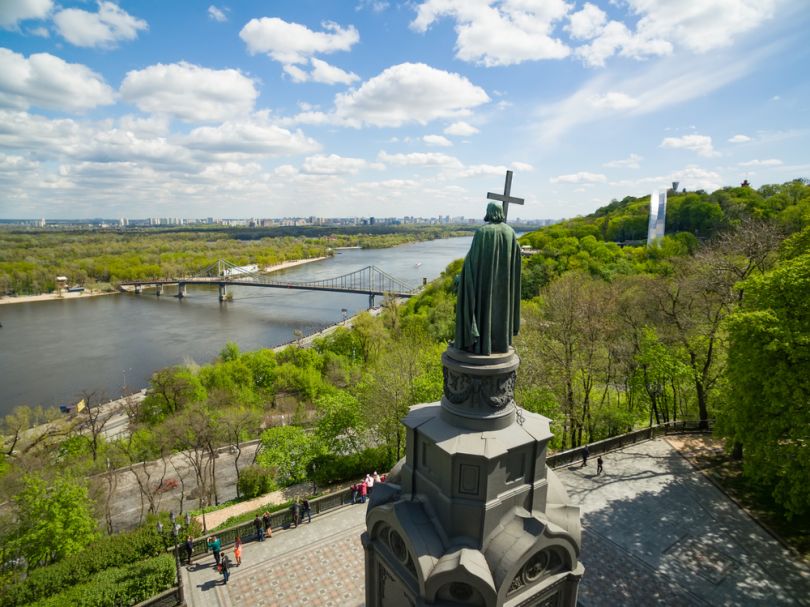 The rumors say that in the ancient times the idol of Slavic God Perun was standing here on the location of modern St. Volorymyr`s monument. However, it is not correct: the idol was placed not far from here – near the Historical Museum at the address 2, Volodymyrska street. Astrologists say that St. Volodymyr`s hill is a powerful point where the channel between the Earth and Cosmos works, so if you believe in astrology, you can come here to get charged by positive energy. Kyiv doctors of the XIII–XIX centuries gave their patients serious recommendations to walk in this area to improve their health and mood. Anyway, even if you are sceptic about such kind of gossips, you can still enjoy a lovely panorama of Kyiv observed from here – without any magic.
Golosiyivsky Park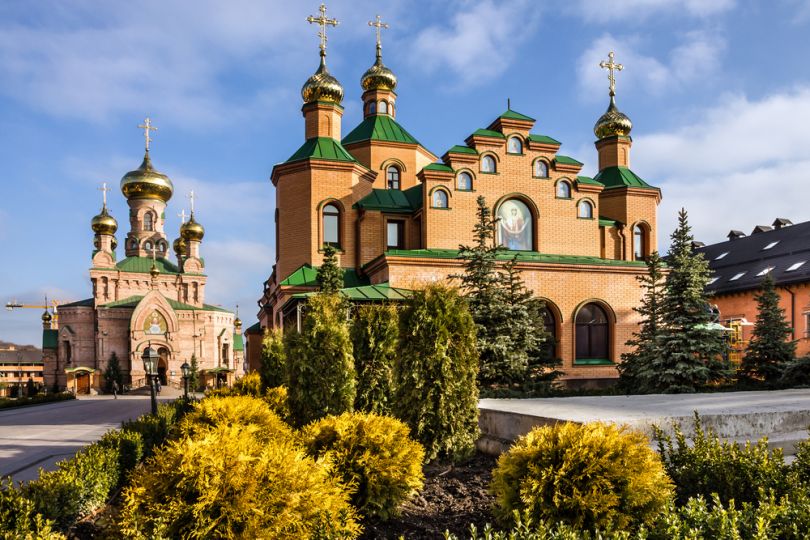 This picturesque park surrounds Golosiyivska Pustyn` monastery that has been standing here since the XVII century. Kyiv dwellers love to walk through this park – a peaceful place that is just perfect for relaxation and meditation. Golosiyivsky park has its own interesting story. In the end of 1970s, mother Alipia was living in her small house in this area. Mother Alipia was a nun and a healer who refused worldly vanity and comforts in the name of God. She was famous by the fact that she spent few years living in a hollow of a large tree. The legends say that she was able to talk to flowers, trees and animals and could heal people with her prayers. Many people came to Alipia during her life for her blessings and prayers, and numerous pilgrims still visit her grave at Golosiyivska Pustyn` monastery.

Caves of Kyiv-Pechersk Lavra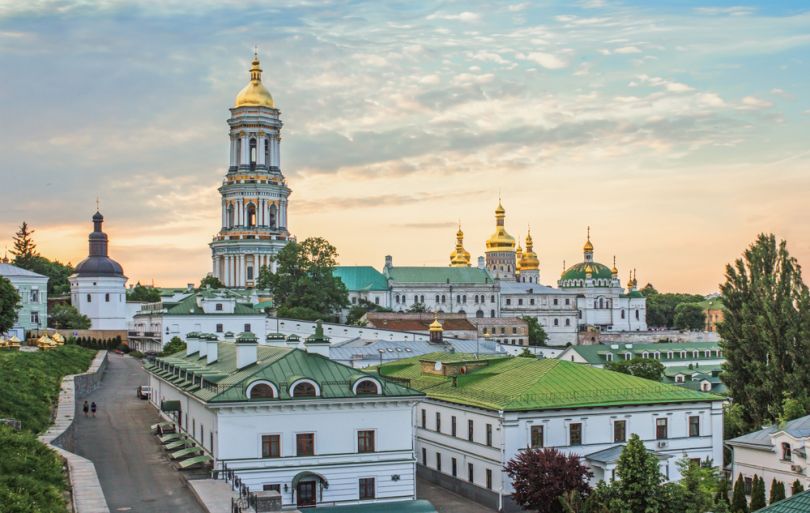 Kyiv Pechersk Lavra, founded in 1051, is one of the most powerful holy places that attracts thousands of religious people from the whole world. The corridors of ancient underground caves in Lavra hide relicts of many saints. The monks and visitors believe in the special power of this sacred place. Legends say that many people were healed from serious diseases after visiting Lavra caves. Pilgrims come to the caves to clean their souls and to pray for blessing, and it is no doubt that here their prayers are heard.
Desyatynna Church Foundation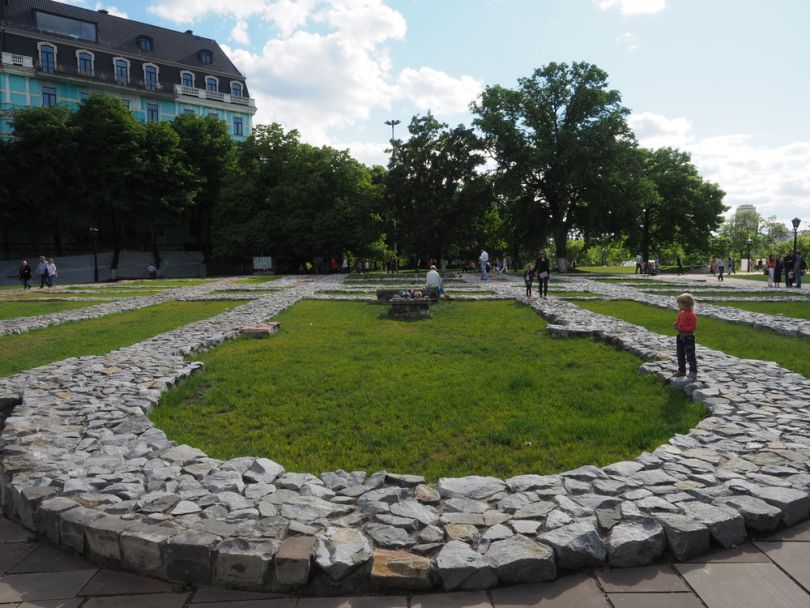 Desyatynna Church on Starokyivska mountain in Kyiv was the first stone church built in Kyiv Rus by the prince Volodymyr. Before this, a pagan temple and statues were standing here. Nowadays, only restored stone foundation has left on the place of the church, but this location is still considered as a powerful energetic center of the city. There is even a theory telling that Ukraine and Kyiv will become the happiest place when Desyatynna Church is rebuilt. Visitors come here not just to see the old church foundation. Here you can also find remains of the ancient pagan altar and a very old linden tree that was planted in 1635.
Mystical places of Kyiv invite us into the world of the mysterious and unknown. Welcome.
Photo source: shutterstock.com. All photos belong to their rightful owners.