It was an interesting conversation with the Ambassador of Switzerland in Ukraine on the importance of education in the prosperity of the country, the must-have qualities of the diplomat, and the potential and beauty of our country as well.
– Mr. Scheurer, what is the cooperation strategy with Ukraine?
In many ways it is to support Ukraine in the reforms agenda. That's certainly absolutely essential for Switzerland to be a very good friend and ally of Ukraine in the field of reforms be it in the energy sector or in health sphere, in terms of decentralization or in some niches like agriculture, for instance. We were the first to really invest Swiss money into bio agricultural products in Ukraine.
– What caught your eye and attracted your attention when you first came to Ukraine?
The beauty of Kyiv as the city. Despite the fact that I came first in my present capacity in October, it was a beautiful week, very sunny, nice weather and the city was still very green, to my impression.
– You have been in Ukraine for almost 2 years already. Do you see any emotional, political or cultural changes here?
Yes, and no. Of course, changes take time. So you cannot expect to see many changes overnight. It's a short period of time in the history of a country, even in the history of one person. But at the same time I see civil society, which is NGOs, Ukrainian civil society. They are active, they are demanding; they continue to check what the government is doing as well as the media. The civil society keeps an eye on checking the improvements. So that's a big change. And since we are having an interview on the 12th of June – one day after visa liberalization – I believe that it's nevertheless a historical change. Not every Ukrainian will benefit from this, because of lack of money to travel to Europe or to Western Europe. But this will bring Ukraine back into the European family in the broadest sense of the word. And we also celebrate very often "Anne de Kyiv" and we have a square of "Anne de Kyiv"; and I think she was the first one, that we know at least, who established a link between Ukraine and France, Europe. But now, I think, the history of Anne de Kyiv is complete, the whole Ukrainian family means a change for any Ukrainian to join this European family.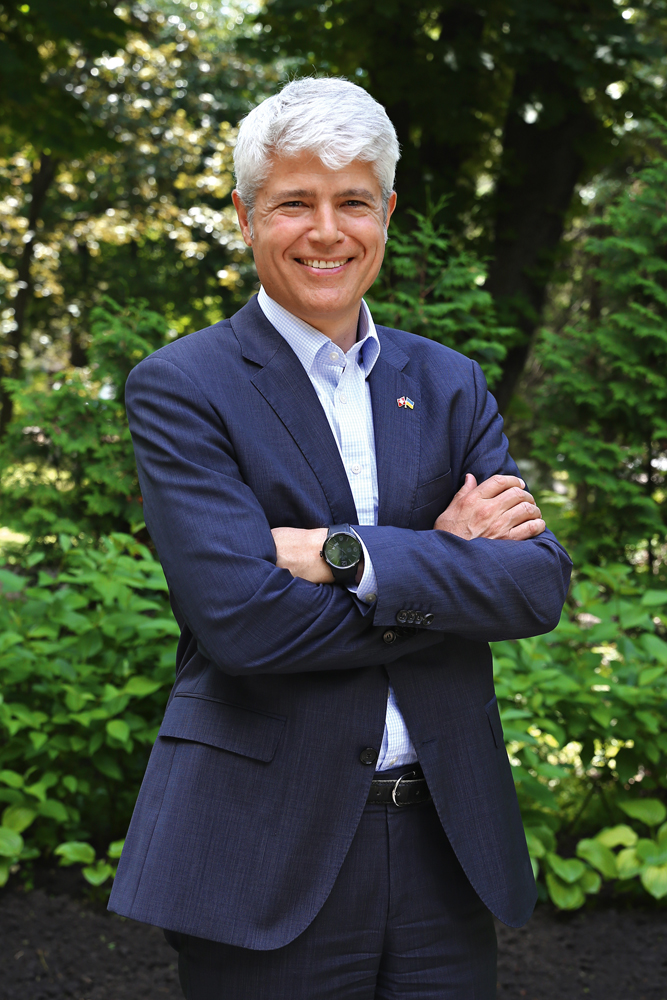 – What is the hallmark of Switzerland?
Traditionally Switzerland is known for cheese, for watches, for chocolate… But I think that all those items feature Switzerland as a country of innovation, technology, industry and "know-how".
– Switzerland was a poor country until the end of the 19th century. Due to that, many people went abroad in search for work. What made Switzerland to become the most prosperous and the most globalized
country in the world?
One of the main reasons, I think, is education. So, since early days, we have emphasized the need to have good education which means that you need good teachers, and you need to pay them good salaries. And that relates to all education steps – kindergartens and schools and up to the level of universities and polytechnic schools.
– What about universities? We all know that Swiss universities are in the list of top 10 universities of the world. How was that achieved?
Again, on the one hand, we have the best professors in the world, meaning not only Swiss professors, but also professors from other countries; we are very open to foreigners – professors as well as students; our state and private companies fund the universities so that the latter could also have money that matches their ambitions.
– How long did it take you to achieve the "top 10 goal"?
It is a matter of generations, you know. Since the very beginning and up to now these institutions have been following the right direction and have set very ambitious goals: to be always better – from year to year to be better. And, you can measure those achievements, you can set the goals, you can see if you are on track and, therefore, you can always improve.
– They say that the life of a diplomat is a non-stop 24-hour work. Do you have time for life not for work?
Yes, a little bit, of course. You know, especially in countries like Ukraine all people – ordinary people, people in the embassy, in government, parliament – work really a lot. And the ethics of working is very high. And, it's not a diplomatic talk, people are not saving efforts to work. It's also a kind of attraction and motivation for world diplomats to be up to this level of work and engagement we see in Ukraine. The attitude to work is important for our country and other countries in the world. It's demanding indeed, and sometimes due to this private life suffers.
– Does your family live in Ukraine?
No, my family lives in Vienna. It's because my wife is Austrian and she works there and our son is finishing his school in Vienna, and it is not the best time for him to change the school system.
– The country where you live always influences you. Do you feel the impact of Ukraine on you? Do you feel here as guest or more at home?
It's a good question. More and more at home. My family comes here very often. They like to be here, especially to come during summer months. I think the country influenced me in terms of appetites, the willingness to be very open, to be welcoming and also to make the country better. You feel it in all different people, in particular, in young population, teenagers; adults also have this drive; people are willing to make their life and the life of this country better and that's really astonishing.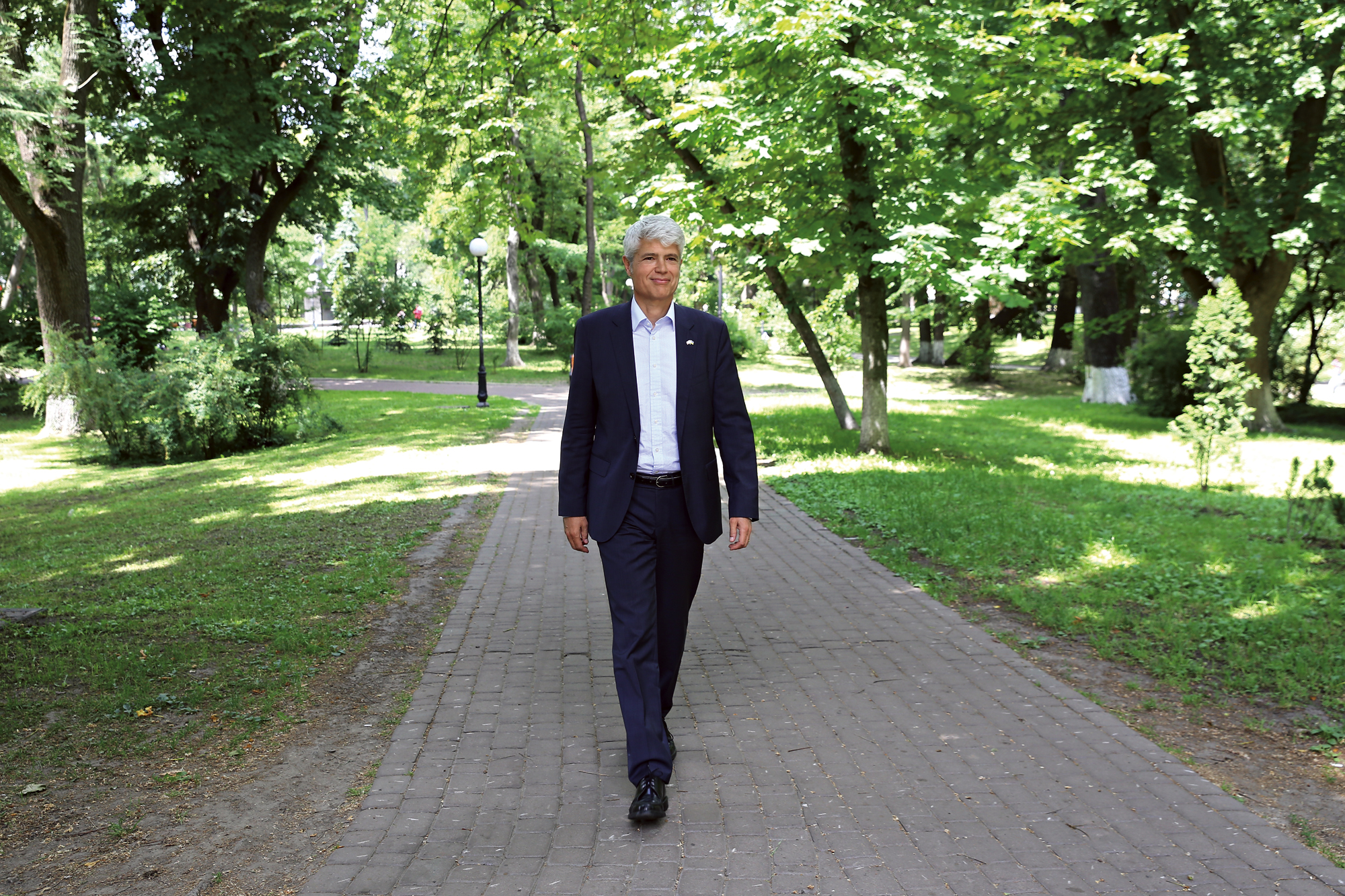 – Do you have any hobby?
Yes, I do. But before I answer I'd like to mention something. We spoke about education in Switzerland at the very beginning. And I think I see in Ukraine the same motivation for young people to have a good education. Education is not yet, of course, of the same level at universities, but state, families, people put an emphasis on it. Young people want to learn languages, to go abroad to study in modernized country and I see it very often. As for hobby, I should say that my dog is my hobby. She is almost a part of my family. And I love all kinds of sports. I like to go jogging on the islands, on Hydropark, cycling a lot, sometimes even in the apartment, that's quite practical, but also outside, I love skiing, of course.
– What qualities and skills should a person have to become a brilliant diplomat?
Well, I think he or she should be gender neutral and it's very important. We have excellent women diplomats as you do in Ukraine. For instance, you have a very good Ukrainian Foreign Ministry spokesperson, she's a lady, and the Ambassador in London is a lady, my boss in Bern is a lady, so it's above the "he and she work". I think the most important quality is the capacity to listen and have interdisciplinary, intercultural skills. Diplomats are very often generalists. You cannot be interested only in economy, or culture, or politics. You need all. And, therefore, you are never a specialist, you are never an expert. Some of my colleagues achieved that. But usually you know a little bit on many topics and you have to accept this limitation that you are not an expert, but you connect different problems, issues to find a comprehensive solution. And not only the solution that will address that particular issue, but the one which will be the best for everyone.
– What about personal qualities that are must-have in this profession?
You should love people, love new things, new topics, new problems, new country. And then you have to love people you are working for and with, to interact with people. So the human dimension is very important. And I think you also need to be very enthusiastic. You need to communicate the interests of your country to others and try to create events. So we are also more and more a kind of entrepreneurs having projects. In this world with media there is so much information that all jobs change, they change all the time. Google translate, for example, wasn't there 5 years ago and it wasn't there 20 years ago; every job is changing. Earlier the job of diplomat was to inform your capital about what was going on, but now you have media. And the media inform faster than you do it. But you have to add the value. The media inform about the general situation, but I'm informing about specific aspect, that's one part of the job. It has changed slightly, but it's more and more being an entrepreneur developing projects. The Swiss Embassy is very active in arranging events in cultural sphere, also for our companies to promote Swiss business, trade, Swiss products and location. Maybe for Ukrainian companies it would be also important and interesting to come to Switzerland and invest into Swiss companies in order to maintain an increase of jobs in Ukraine.
– If you had to make a page in Wikipedia about your presence and activities here what would you write?
I would write about optimism and that Ukraine would become a member of European family; it surprises the world more and more. You have all for this: young, smart people, good education and civil society that has a capacity to lift the country and push the government and parliament in the necessary direction every time it is needed. And you feel that now the government and parliament are working very hard into this European integration. And it has a positive effect on economics and trade. And people become more open and tolerant.
Interviewed by Tatiana Suvak / Ivanna Slaboshpitskaya