Rohner's colleague at the university also responded to his Facebook post, leading to a synergy that resulted in the launch of the CAS Rebuild Ukraine program in Switzerland in February 2023. The project, spearheaded by Rohner, is an inspiring example of how human solidarity, empathy, and a genuine desire to help can achieve extraordinary things.
CAS Rebuild Ukraine – is a practice-oriented continuing education program for Ukrainian refugees with protected status, as well as for Ukrainians already residing in Switzerland, and aid workers involved in the reconstruction, who have been living in Switzerland for a long time, and for members of humanitarian organizations who will also participate in the reconstruction, has started at the Bern University of Applied Sciences.
The program will enable participants to acquire specific skills necessary for rebuilding the country after the war. For the Bern University of Applied Sciences, this format has become a completely new experience in organizing teaching and methodological work.
The program began at the end of February and will last for four months. A total of 30 people have enrolled in the course, of whom 27 are women. Many of them have experience working in construction or energy. There is great interest in the program, so it is planned to continue it in the autumn of 2023.
The key issue at the beginning of the project was funding. The cost of the training is 6,500 Swiss francs. For refugees, this is a significant amount, so Thomas Roner, a person with a big and sincere heart, organized fundraising through private business companies, foundations, and individuals who agreed to provide sponsorship and pay for the training of Ukrainians.
We spoke in more detail about the course itself, its participants, and future results with Thomas Rohner and Mariana Melnykovych, a member of the Core Team CAS Rebuild Ukraine.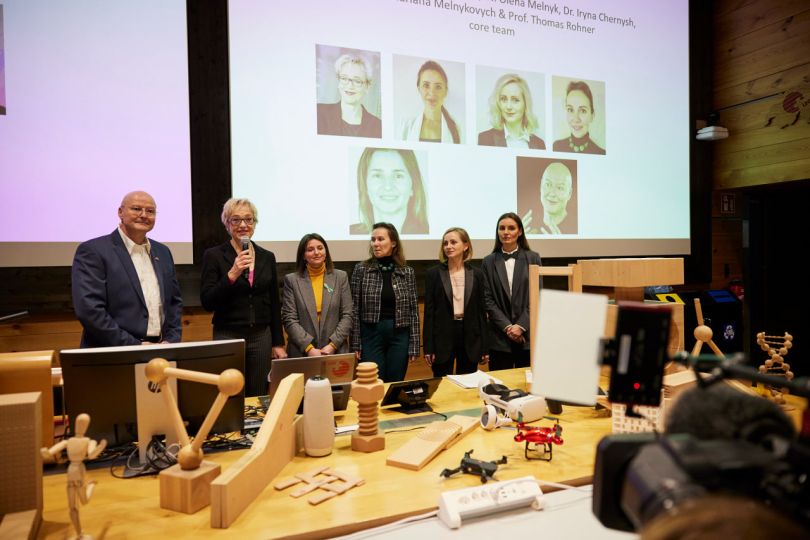 Thomas Rohner and the core team of the project
Mariana, please tell us what this course is about.
CAS Rebuild Ukraine was created with the aim of helping people and with the belief that education is the most sustainable investment. The continuing education course was developed in close collaboration with experts from business, science, research, and government. Its main goal is to provide refugees with the opportunity to make a real contribution to the reconstruction of Ukraine after our victory. Our participants will be working on preparing real projects for the reconstruction of specific schools, kindergartens, or energy facilities. These areas are currently very relevant for Ukraine. The projects are proposed by the students themselves, and we provide them with the methods and tools to carry them out. Several higher education institutions from Switzerland and Ukraine are involved in the educational block and its content, which determine possible projects and develop solutions for their implementation. The educational block is highly practical and aimed at people who already have the appropriate professional education and experience. Examples of projects in the field of reconstruction come directly from Ukraine, and the classes cover specific topics such as analyzing damages to buildings, planning the restoration of water and electricity networks, assisting in the reconstruction of damaged buildings or infrastructure facilities. The expertise of already implemented and planned projects ensures a high level of practical significance.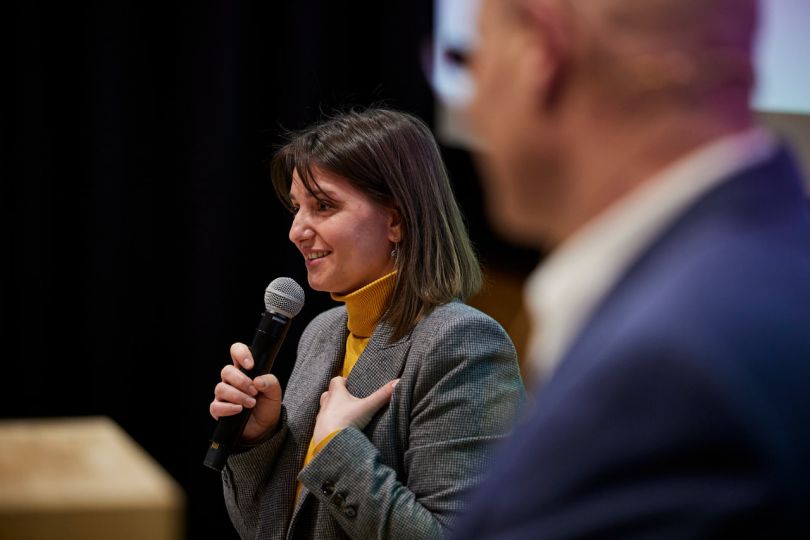 Mariana Melnykovych
How do the course participants themselves see their future after completing the program?
It should be noted that all 30 of our participants underwent a rigorous selection process, with three applicants vying for each spot. Each individual who made it into the program is a highly dedicated and qualified specialist, not all of whom are in the construction field - some are lawyers, economists, or PR professionals. As for their post-training aspirations, all are highly motivated to return to Ukraine and work on rebuilding the country through various projects. This inspires them to work diligently. Work has already begun on specific projects, as all of the participants hail from different regions in Ukraine and are familiar with the specific needs of their local areas.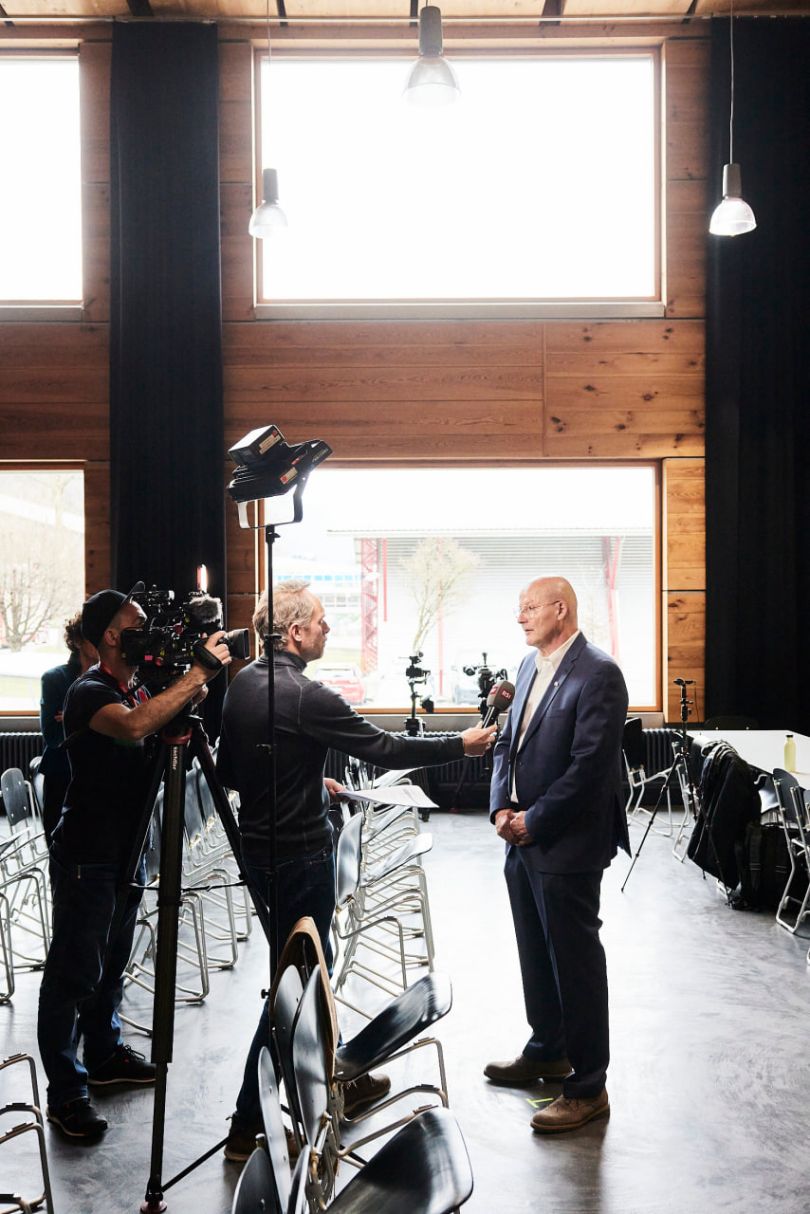 Are there any peculiarities in the teaching of this course?
All training will be based on modern approaches to construction and planning. Our program is focused on sustainable development projects and the efficient use of natural resources. After all, the reconstruction of Ukraine will not only concern infrastructure, but also the creation of a new type of economy. I also want to note that we will focus not only on issues of big cities, but also on the reconstruction of Ukrainian villages. One of our projects is precisely about building smart villages in rural areas. We want to breathe new life into traditional Ukrainian villages so that people who return there after the war have not only housing but also jobs. We are eager for this course to provide a positive impetus for the development of Ukraine.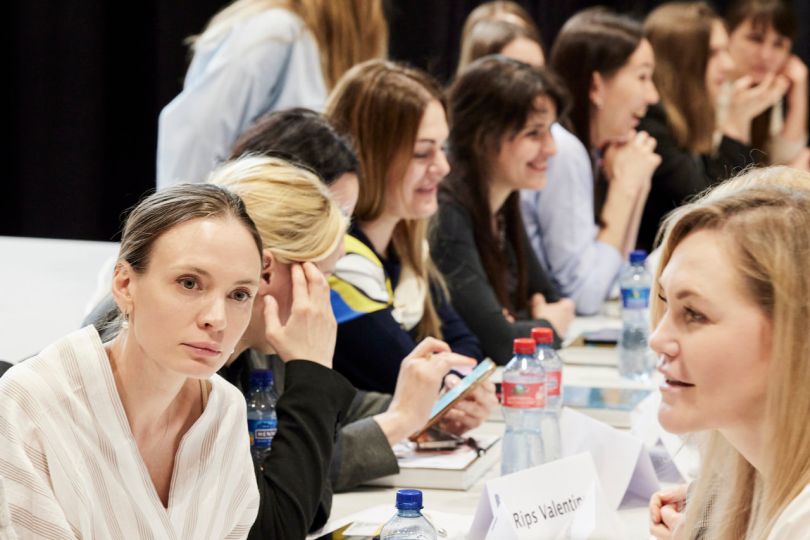 Thomas, how do you feel when the project is already presented?
You know, it's an absolutely fantastic feeling. For me, it's a truly defining moment. I'm very impressed by what we, as a team, were able to accomplish in such a short period of time. The most important thing is that we've created opportunities for people who are willing to learn and eventually return to Ukraine to start the process of its rebuilding.
You conceived this project back in March 2022, that is, almost in the first month of the war. But then not so many people, even in Switzerland, believed that Ukraine would win. What was the main impetus for you? How did you come to this?
The main impulse initially was that Russia attacked Ukraine, which is defending itself against this terrible military onslaught. But this story, in my opinion, is much broader than it seems. Ukrainians today defend peace and democracy in Europe, and that is important. For myself, I thought that I should somehow help, give something back to the Ukrainian people for this great sacrifice. I believe that we cannot wait for victory without preparing for it. We do not know how long this terrible war will last, but I am confident that victory will be on the Ukrainian side, and after the war, the processes of rebuilding the country should be launched immediately. We must prepare for this moment now.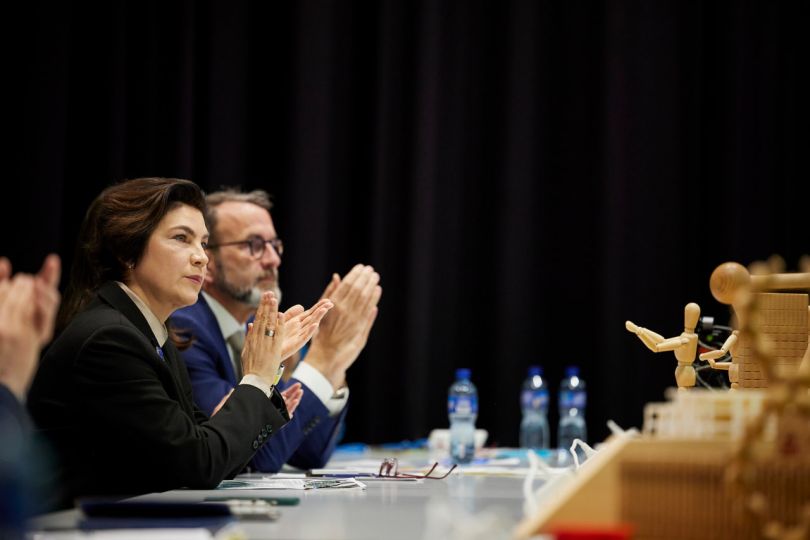 You have united many different universities and companies around this project. How did this become possible in such a short period of time?
Personally, I try to take the fast track. I know how to work and always look for a direct path to someone or something. We have an association of Swiss universities. I called them to ask: "Hey, here's my idea, my concept. What do you think? Are you with us?" They said, "Yes, of course." I have been in the construction industry for 40 years. I also had a software company. I know all the companies that deal with wood construction. I can say that all the participants were easy to engage in this project because it makes sense and has a great purpose - to help people and Ukraine.
Thomas, have you taken on specific projects for a specific region?
Yes. We already have various projects underway. Several of them are from the Geistrich Chemical company, who have some interesting and important initiatives. One is a kindergarten, while another involves renovating student housing. This means we can move directly to a real project and start working on it.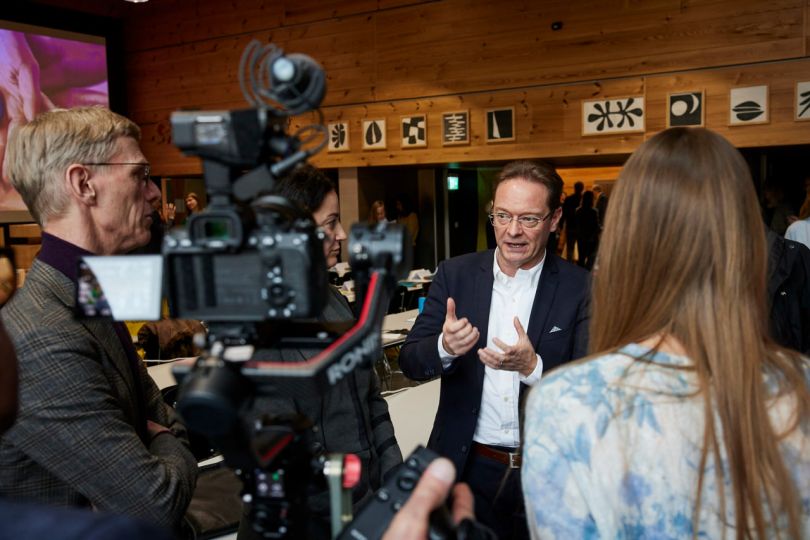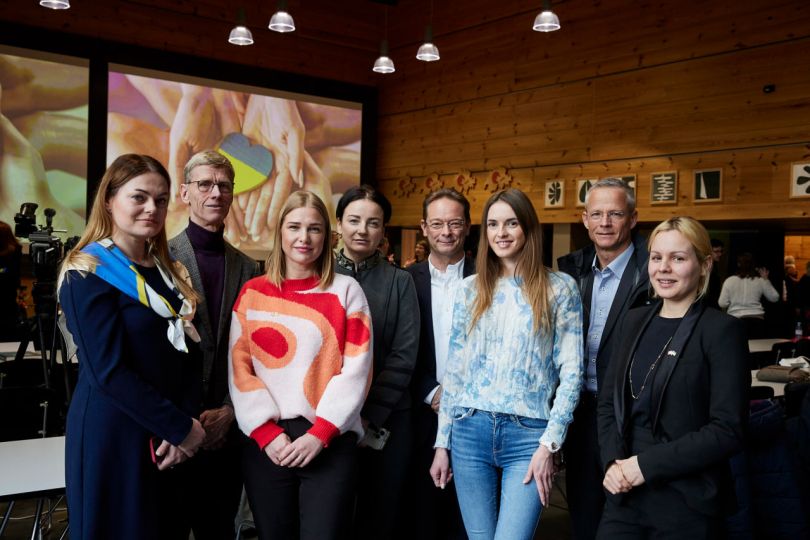 Switzerland has something in common with Ukraine, for example, the use of materials. We also have an extremely large prospect of using wood, but this direction is not sufficiently developed today.
There is a shortage of wood processing industry in Ukraine, which is a big problem. We have sawmills and everything, but there is no wood processing industry in Ukraine. This means that we are exporting a lot of valuable resources to other countries. If we only export round logs and trees, then the country is simply losing its natural wealth. If we want to close this value creation loop, we can do a lot to help with timber construction and the forestry industry. We need to have businesses that can produce these products. I believe this is an important step in strengthening Ukraine's economy.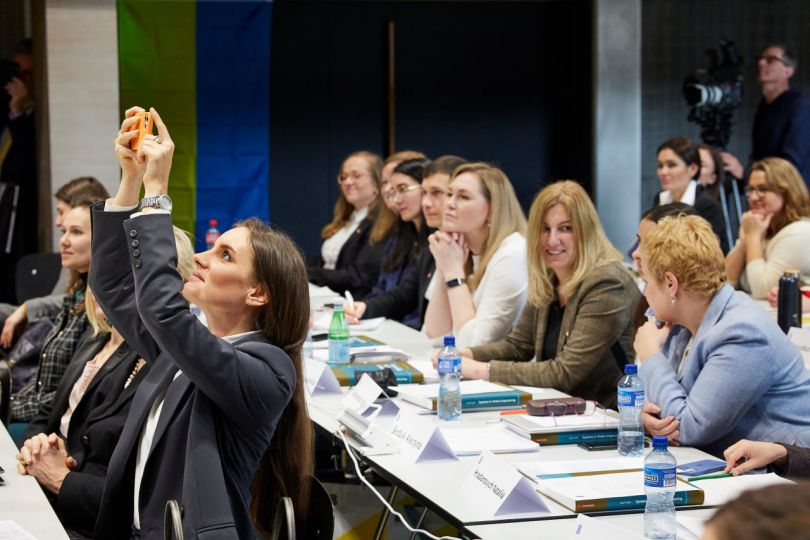 I was very touched by the fact that you also care about the children of the women who take part in this course.
In my opinion, the components of a decent person are empathy, helping, and caring. From the very beginning, when my wife and I started working together, it was clear that we wanted to teach women who were able to leave Ukraine with their children. We understood from the outset that we would not be able to engage them in our courses without addressing the question of what to do with their children. How can they finance transportation from university to university? Do they have a laptop? And if they had to flee with their children, they probably don't have a laptop with them, so we need to organize that too. This is not what we usually do at the university. It was an additional task. I have my core team, and they were very helpful in resolving all these important life issues.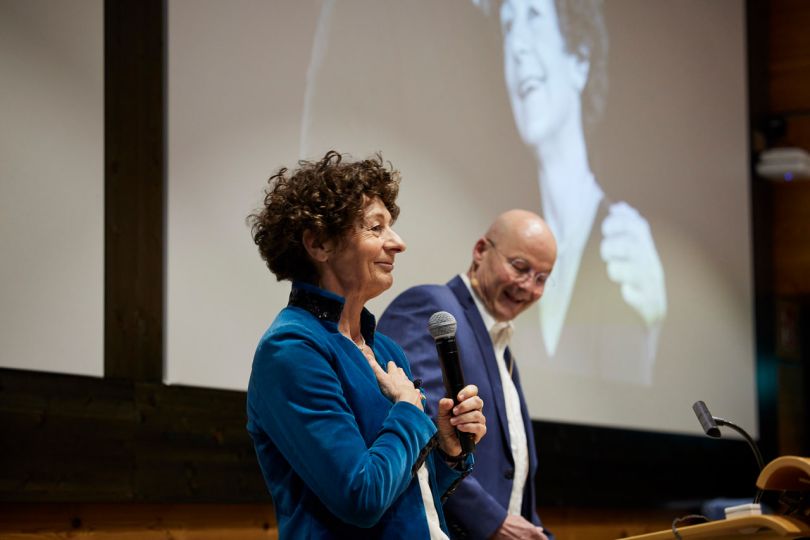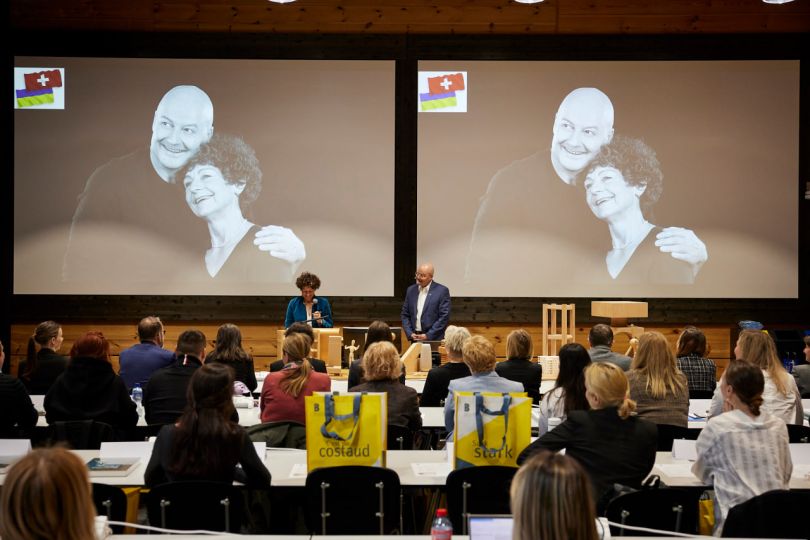 Thomas Rohner with his wife
Your wife is present at the presentation. Has she supported you since the beginning?
Yes, of course. We've known each other for 54 years, since we were in kindergarten together. And then we didn't see each other... for 30 years, and when we met again, we got married. She's my life.
What an extraordinary story.
Sure, we're a great team. Without her, nothing would have been possible.