The main peculiarity of the doll is that it should be faceless, often with cross on head. It used to be made of any pieces of fabric that could be found at home. Craftsmen draw no faces (no eyes, nose, mouth) to let small children develop their imagination and think of the doll`s emotions while playing with the doll. According to the ancient popular beliefs, the face inspired a soul in a doll. The soul can be good or bad, so it was safer not to give a soul to the doll at all than to risk giving a bad one. Ukrainians used to believe that the doll would take away the illness from children. It was also believed that motanka protects the house from evil spirits and ghosts.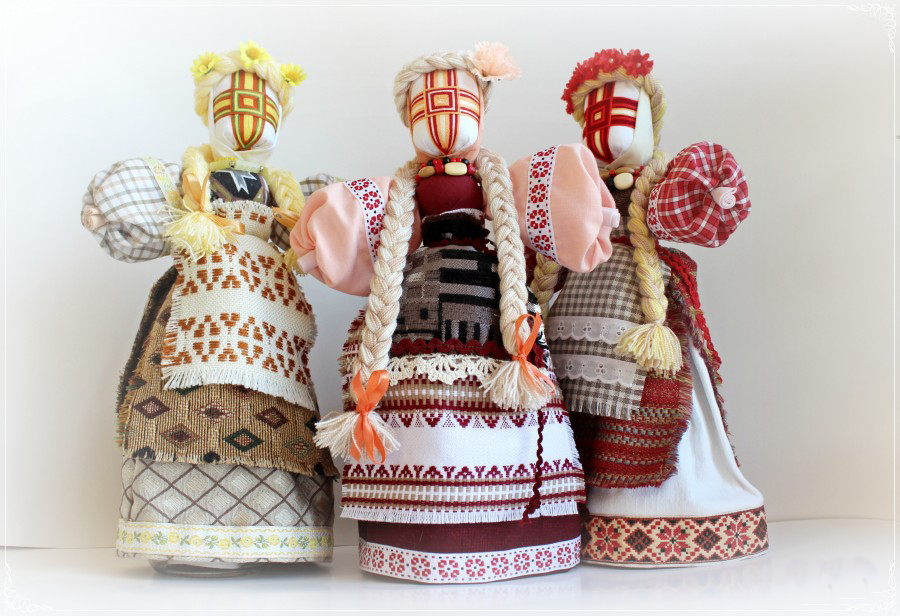 These dolls are usually made of the natural materials such as hay, straw, wood, herbs, dry leaves, grains, seeds and are filled with fragrant herbs. Motanka dolls were decorated with traditional ornaments and embroidery. These days motanka dolls became popular gift idea for various holidays and weddings. There are different motanka dolls specially made for baby showers, engagements, weddings and even funerals. The doll-motanka of bride helps the girls to turn away the evil eye and support them through their marriage. These dolls are wealthy dressed and decorated because it symbolizes the wealth of the would-be-family. At birth of the child relatives often give the baby doll-motanka. Parents put it in the cradle in order to protect the sleep and the health of the newborn. Traditional Ukrainian motanka dolls are an interesting tradition that survived centuries; these dolls keep protecting the household of modern Ukrainians till our days.
Photos source: Lika Tar via pinterest.com, Sun_shine / shutterstock.com. All images belong to their rightful owners.